Fan the Flame Tour by Rocky Fleming
Rocky Fleming is touring the country, fanning the flame of our most important resource, our wonderful leaders. He plans to chronicle his journeys in this blog and share the stories and testimonies he discovers from all over the country.
May 23, 2023
Fan the Flame Tour Frisco
DFW Regional Branch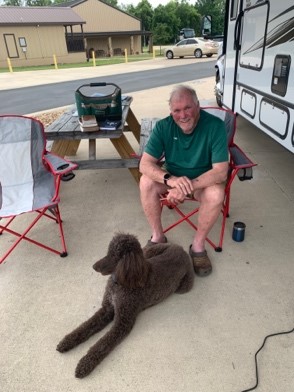 We completed our initial tour into Texas by attending a gathering of mostly Journey Guides who have been responsible for almost four hundred men and women who have completed The Journey. As with other visits, these brothers and sisters in Christ we met gave Sallie and me a warm reception with a famous Texas enthusiasm. It seemed like talking to family when we spoke about our mutual love for Christ and The Journey that has taken us to the intimate place with Him that has literally changed our lives. These "Guides" are dedicated servant leaders whose purpose it is to make disciples, and the joy they receive from doing so filters from their hearts and into their faces. None more so than our Regional Director Michael Daoust and his wife Elizabeth. These two are a ministry team and work so well together. Perhaps it is because they both come from military backgrounds and have a lot in common, which by the way she outranks him. But most assuredly it is because both are Soldiers of the Cross and they are under the command of their King, Jesus Christ. They have accepted His commandment to make disciples, and we see the result.
The Dallas/Fort Worth area is a vast region with many discipleship opportunities. Although it may seem daunting from our human point of view to plant a Regional Branch there and have such a large target area, we know that God's admonition to start small, go deep, and pray big builds it right. As with most building projects, careful attention with creating a firm foundation is necessary. When the foundation is established on men and women who love Jesus and know how to make disciples using The Journey, we have seen God use them greatly to build a Regional Branch. Mistakenly, our own limited vision is established on what we want to create. Even though it could be with pure hearts that we pursue our vision, if it is not under God's leadership and involvement, it will become only what people can do. For that reason, Influencers wants what God can do through us, not what we can do for Him. I believe that we are seeing this process taking shape in the DFW Regional Branch, and it will become extremely fruitful and far-reaching ministry that will reach many people and assist many churches with their efforts with discipleship.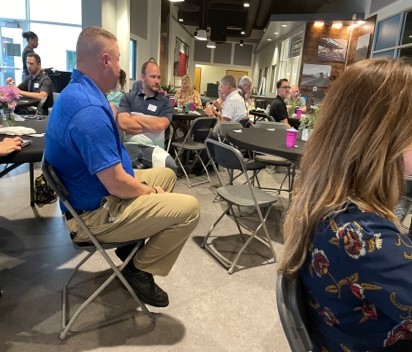 I continue to be amazed with how God raises up our leaders and expands our territory through the organic means that I often reference. Michael and Elizabeth are examples. Before moving to Texas so that Michael could get his two master's degrees from Dallas Theological Seminary, he was a disabled firefighter in Southern California. It was there that he got to know my lifelong friend and our Regional Director Pete McKenzie in Irvine, CA. As he is so good to do, Pete mentored Michael and led him through his first Journey Group. When he moved to Frisco, Texas to start attending DTS Seminary, Michael and Elizabeth joined a local church there. Interesting that his seminary class required a project within a church that would help its ministry. Therefore, Michael asked for and was granted permission to help the church by introducing The Journey. Discipleship at that time in his church was pretty much non-existent. So, it worked out for everyone that The Journey began at that time. Several years later we are seeing the organic reproduction that has occurred.
We have seen several of our Regional Branches start in a church but later outgrow it and then be birthed out of it so that the Branch can be used in more churches in the area. Staying in only one church can hinder helping other churches for unfortunately there is competition in some pastor's minds that they don't want to risk losing members, or some are concerned about members being exposed to doctrine that is different from their own. We address that concern by assisting and training church leaders to use The Journey under their own supervision and leadership. We have a Kingdom building perspective and simply want to grow God's Kingdom and not this ministry. So, we are super excited to see a church benefitting from the discipleship process God has entrusted to us to share by its leaders using it. We feel God's pleasure when we do this, and we see many disciples who deeply follow Christ being made. I anticipate that this is happening right now in Frisco and the DFW Regional Branch, as it is moving outward on the foundation that has been carefully built the last few years to assist many more churches and church leaders in their discipleship efforts. Jesus has laid the foundation. He will now build on it and we will follow Him.
Our next trip on the Fan the Flame Tour will next take us to Temperance, Michigan to visit the great work being done there by Mike and Angie Malak. We are looking forward to being with this amazing couple in a few weeks. You'll be hearing from me about our visit there.
May 16th, 2023
Bryan, Texas
Sallie and I, and as well Joy our dog, are headed south into the great state of Texas. There are several key leaders in different parts of Texas as far south as Corpus Christi and north to Canadian, Texas, and points in between. Regretfully we will not be able to see them all on this particular trip, for we have some specific events to be part of in two locations, and they will take most of our time. We plan to be going back to see as many of our Champions in Texas as possible and look forward to it, for they are special people.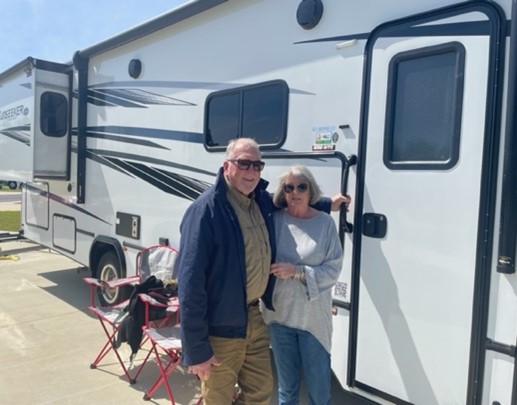 We've been off the road for a few weeks, having had a great trip into Tennessee, Mississippi and Alabama in March. If this trip is anything like that one, I expect to see similar fruit from the incredible work our Champions and Regional Director are having with making disciples. When it's my mission to make disciples and share what God has shown me about the process that He's revealed to us, it is so gratifying to see God working in other lives using The Journey. Seeing similar insights and fruit as we are seeing in many parts of the world affirms my belief that we are part of something great that Almighty God is doing.
I continue to view Influencers as a living organism that God has inspired and formed. Being such, we've seen amazing expansion that has been a natural occurrence rather than planned. For instance, is our connection with First Baptist Church in Bryan, TX. Our presence there was initiated through Nate Sweeney and the Abiding Network that he founded. Nate is a big proponent of The Journey in the church he pastors, and those churches he works with through his network. David Booth, the pastor overseeing discipleship at First Baptist Bryan was in Bentonville and we met over lunch with Nate. We hit it off, and our hearts were immediately joined by God for a divine mission to assist him in their discipleship efforts. They've launched a great work there, and it is with great enthusiasm that we spent time with several groups both women and men.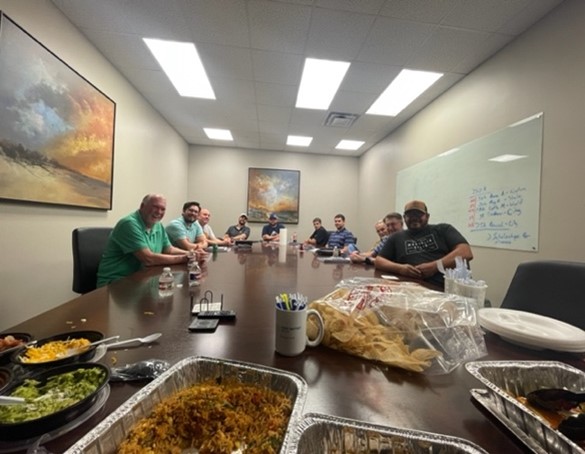 Pictured is a Journey Group that David is leading. They are a sharp group of men with several Aggies in the mix. I spotted it by the beautiful class rings they proudly wear. It made me want to get out my half-century old M-Club ring and start wearing it again.
These men are only in the fourth session in The Journey, so there is much ahead for them to be exposed to and grasp. An interesting comment by one of the older men was his desire to start abiding right now. He said that was the main reason he wanted to be in this group. I love his impatience for it shows his hunger, and those who are hungry and seek Him will find an intimate abiding relationship with Jesus. He is a Treasure that wants to be found, and He has given us a map to this deep, abiding relationship with Him. But we must follow the map.
I told the man that The Journey starts slow and builds a foundation that God is an intimate God and is trustworthy. Most Christians know this only vaguely, if at all. Our concept of God has most often been shaped by other people and their concept and it becomes only knowledge, rather than a first-hand heart experience. Learning to self-feed on God's word concerning relevant information on things such as the Bedrock of God's grace, the fact that God knows, cares, is willing and able to be involved with us on the deepest level builds that foundation to trust Him more deeply. This is called the Enlightened series, and in so named because we need to understand these characteristics about God before we move forward into the Enabled series that focuses on abiding and the essential part Holy Spirit plays with it. My encouragement to the man was to stay with it, do the work, and his heart will be opened up. We've seen this to be true the last 22 years with thousands of Journey participants.
Interesting enough I had a similar conversation with Mike Stanley, our Champion in Columbus, OH. He has led several Journey groups and has been used to start a movement in that area. His comment was, "When the participants do the work as outlined in the Journey manual, they find amazing life change and a deeper connection with Jesus. Those who do not, will not find what they are looking for. So, I tell them to stay with it, and they will begin to abide in Christ."
We will be taking the Fan the Flame Tour to Columbus in June, if God be willing. But our next stop is still in Texas, as we will be visiting with our Regional Director of DFW, Michael Daoust, and a group of Journey graduates who are involved with making disciples in the area
April 25, 2023
Tour One Recap
Sallie and I returned to NWA from our first tour joyful, and a little exhausted. At 78 years old and Sallie three years younger, we realize that we must pace ourselves better as we continue the tour. She and I learned a lot on this trip both with our ministry, and as well as new RV people. All-in-all we would say that it was a great success and causes us to look forward to many more such trips with great anticipation.
We leave for Texas the first week in May and will be there a couple weeks fanning the flame of some great work going on in different locations. Then we plan to go to Wichita in June to do the same there, and hopefully to Michigan and Ohio in July, before heading to the West Coast in September. There is an important point I'd like to make with our plans, and it comes from the following scripture:
"The heart of man plans his way, but the Lord establishes his steps." Proverbs 16:9 ESV
I truly feel that the plans we've made for our Fan the Flame tour comes from the nurtured hearts Jesus has given to Sallie and me. He has prepared us in ways that seem to resonate with the people we are with. I heard Sallie tell her friends when they wanted to hear what happened that she felt she had met family members she hadn't known before. There was a feeling of being in the right place for the right reasons and with the right people. All I can say is that we feel that what we are doing is walking in the plans the Lord established. But I feel that I need to connect this thought with the scripture above, for it could very well relate to what some of the readers of this post are being prepared for, and they need to realize it could be the same for them. So, here goes.
I believe the work of Holy Spirit in the sanctification process of a follower of Christ is to fully capture our heart, and it is a wrestling match until we relinquish it to Him. An example is David after his fall with Bathsheba. In his shame and repentance, he prayed, "Create in me a pure heart, O God, and renew a steadfast spirit within me." He knew that his heart had become ruthless and callous, and distant from God. He made bad choices because of it. As a consequence, he had become "brokenhearted," which is the prerequisite for God to create in us a pure heart. David was then in a position to be restored and given the right heart he should have had all along. God wanted to purify David's heart.
What is a pure heart? It is one that loves God with all of our heart and others as we do ourselves. We join with Jesus and put others first, but since He is with us, we feel blessed more than the ones we serve. It seems contradictory and illogical and it goes against our instincts that wants us to look out for our self interests first and foremost. But in following His ways and His plans, we are blessed by being included in His work in other lives, and we feel His pleasure.
On our first tour Sallie and I felt God's pleasure. We felt His pleasure and His love for the people we met. We felt His love to us through those people we met. Concerning the planning, I feel that we planned the tour from the heart connection that God had been nurturing in us for years, and because it was planned in a good place, He established our steps. In other words, God planned it out and showed us how to live it out. This might be a valuable lesson for you to learn, if you feel God is inviting you to something special.
Let's begin with what God has told us about His plans. He has good plans for those who are in His family. He knows what those plans are, and they are formed from His own good heart. Therefore, what turns out is good, even though sometimes it doesn't seem so before the good comes, for He is good. Because God is good and His heart for His family is good, He wants us to share in His good heart. Therefore, He puts a premium importance on our hearts.
In Proverbs 4:23 we read, "Above all else, guard your heart, for everything you do flows from it." So, don't be surprised that God's preparation in your life that will prove to be a magnificent expression of your life for His glory, will first go through your heart. Don't be surprised that He might have to break your heart to remake your heart. Don't be discouraged by this. Praise Him for it and allow Him to nurture your heart back to Him and for Him, and you will one day join Him in a great work for Him. I share this with you for Sallie and I had to have a lot of breaking and remaking of our hearts. But it was necessary to prepare us for this time we are in now, and we are glad He did.
God is so good. His ways are wonderful, and His plans are thoroughly good. Trust Him and one day you may be on your own Fan the Flame tour. In fact, I sense He's raising up a lot of us to be Influencers to our world around us and I see many of His family making a big difference. Let's let Him lead us down that road, for it leads to good.
Next blog will come from Texas. Please pray for Sallie and me as we continue on, if God be willing.
April 18, 2023
Montgomery, AL
Several years ago, Tim Rine pastored a church in Bentonville. Like most pastors he gave a lot, but didn't get a lot back, or at least the kind that a leader in ministry need the most. Leaders are often emotionally neglected, because there is no perceived need by those they lead, even though these leaders are just ordinary men or women. These leaders also feel vulnerable to share their needs, thinking it might be used against them. That is why they often suffer silently. It's a common dynamic for ministry leaders. I wish this wasn't true, for there are a few ministers that I've seen who have close relational support by those who are ministered to by them, and it shows in the minister and ministry. It will show by their smile, their joy, and their sense of soul health.
Every now and then God will raise up and dispatch an encourager to a leader such as Tim to pray for him, love him, and give him permission, without condemnation, to be what we all are, which is a flawed human-being. Tim had just such a man start attending his church and would become this encourager. Tom Seay became a powerful influence on Tim with his love and prayers, and it began a renewal and a rekindle of Tim's passion as a pastor. Tim would join a Journey Group that Tom led and through personally abiding in Christ was restored to that 'first love" that brought him into the ministry but had become dimmed by discouragement. Since then, Tim and his wife Becky have become prolific disciple makers. He has embraced a new plan for bringing spiritual depth and growth to his congregation, a plan to teach them how to abide. Tim and Becky are treasures to all of us who know them.
I've watched Tim and Becky grow in their ministry of discipleship both inside and outside their church, as they have become very fruitful laborers for Christ. I've watched them persevere through many challenges that have pruned them and sifted them. This often happens to ministry leaders, by God's design, as He prepares them for the challenge of greater fruit. I've watched a greater purity in their ministry grow, as their love for Christ has become courageous and contagious. As a result, they have been invited to broader areas of ministry influence. I love to tell this story, for it is part of Tom's story, Tim and Becky's story, and the story of Influencers, for it is what we are called to do. We share the love of Christ, and help people grow close to Jesus. That's our mission.
Almost two years ago Tim and his family accepted a call from Vaughn Park Church in Montgomery, AL. As a southerner I'm familiar with the unique culture of the deep south, for I was born and raised in it. I'm familiar with the people, the cultural norms, and in some cases the misunderstandings that occur. Tim, and especially Becky, entered into a culture that they were not familiar with. But they were and are loved by their new church congregation, and that which was unfamiliar has become loved and appreciated by them. This congregation has shown appreciation for Tim and his family, as their pastor. The things that give a pastor a sense of fulfillment and purpose show on his face. I saw this with both Tim and Becky, and the wonderful people I met at this church.
Tim brought in The Journey curriculum to Vaughn Park Church when he first arrived, and the groups have exploded in growth. Sallie and I had the pleasure of sharing dinner with almost 70 Journey participants and their Journey Guides on a Sunday night. We were blessed by them more than we blessed them. To see Tim and Becky in such a healthy and encouraging environment was a great joy to me. To see and experience the joy of the fruit of their labor encouraged me as a laborer. To see how a simple, but profound plan to get a congregation into an abiding relationship with Christ bear such fruit so quickly, affirms everything about our mission as a ministry. Knowing that like most church goers of all denominations we can settle into the routine of doing church and doing good things, but never connect with the intimate relationship with Christ that we've been missing. I heard several testimonies in this church and with the previous people we had met on our trip that told us that before The Journey, this would describe their life as a Christian, with knowing about Jesus but not deep down knowing Him. But I also heard that they had found what they longed for and their lives will never be the same. I've heard these same words for twenty-two years, starting with the first eight men who went through our first Journey Group. We find what we long for, for it addresses our core need to be restored intimately to our Creator, and we will never be the same.
I have seen it to be true that Christ's love reproduces itself. It is His love to us and through us that is contagious to the people around us. This is what impressed Sallie and me the most about the people we met at Vaughn Park Church. They love their pastor. They loved us as their guests, and they love each other. I pray that God will expand their discipleship ministry far and wide in Montgomery, for other churches need to find what they've found. In fact, I pray that will be the case, for I know it is a prayer that God wants to hear.
April 11, 2023
Tuscaloosa - Coker, Alabama
Throughout the last 21 years of the existence of Influencers, we've seen an amazing, naturally occurring organic growth that has been orchestrated by God. We've discovered that when we abide with Him as He abides with us, we will be dispatched by Him to play our part in His divine plans with growing the organism of Influencers. It looks different at times, and we see expansion in ways that can only be described as God orchestrating it. But at the heart is an overwhelming feeling that God wants the message about abiding in Christ to go global, and He's raising up His laborers to take it out there. Our Global Board has always said that we will go where we are invited, for we feel that is where God is sending us. That has been our expansion plan for twenty-one years now, and it grows more each day. Such is the case with how Influencers' presence in the Tuscaloosa area developed.
A man named Rick Rote moved from Bakersfield, CA to Alabama, settling in the area. He had been active in Journey Groups in Bakersfield, but disappointedly he discovered there were no Journey Groups going on where he now lives. About the same time Ray Burkhalter, a businessman in the area, was looking for a discipleship curriculum to take to his church, and other men he knew. The connection was made, and The Journey began in the area in 2017 as Rick and Ray co-guided the first group in Alabama. Since that time the groups have expanded to women, couples and other churches.

Ray has become the lead champion of the movement there, with hopes that they will one day become a regional office of Influencers. I cannot think of a more qualified man to do this. His wife, Gail is also an enthusiastic leader of women. Ray and Gail are a good team, and a ministry team around them is being raised up by Jesus.
It is through a process such as this that our Regional offices have been formed. We look for God to raise awareness, and then people, and when invited, we train, equip and support their growth and expansion. The Global Board feels that we are in partnership with Holy Spirit and we must be good stewards of who He places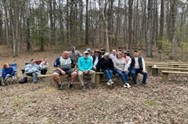 before us to serve. It has been an amazing journey to follow Him this way.
Sallie and I were delighted to hear several testimonies in this gathering about the life change they have had. One man, who happens to be the sheriff of the county, shared that He had received Christ in one of our national gatherings and was baptized in the stream that ran through the property, along with many others. He shared that his life has never been the same, and his family reinforced it. Other men and women shared the impact The Journey has made on them. I have said, and I'll continue to say that it is not a discipleship curriculum that changes people. It is being in close proximity with Christ that creates this change. It is as real as Jesus' promise that if we abide in Him, there will be fruit, and this fruit begins at the heart and transforms the person inside-out. The Journey is totally about this. It is a vertically oriented, grace driven process that seeks to move a participant to this close proximity with Christ. We are simply facilitating this process, and it does as Jesus promised.
As I have traveled to many places to observe and encourage the mission of Influencers, I see a consistent pattern that the Lord reveals. He tells me we are on the right tract and stay with our DNA as He leads us. I thank God that we have leaders who are now understanding this as truth, and not just a mantra. It encourages me that we've seen only a small part of what he is about to do.
Our next stop was Montgomery, Alabama. I can't wait to share that story with you next week. We were overwhelmed.
April 04, 2023
Mississippi State Penitentiary
"Remember those in prisons, as if you were there yourself. Remember also those being mistreated, as if you felt their pain in your own bodies." Hebrews 13:3 (NLT)
Our Influencers entourage arrived at the penitentiary notoriously know as, "Parchman." I say notorious, for as a child and young adult growing up in Mississippi, it was known as such to others and myself. We were frightened by the thought of it. We had heard stories of executions of some of the most notorious criminals in Mississippi. We also heard there were men who remained there most of their life, and subject to hard labor. As a young adult in my wild years I prayed, "Lord, don't let me ever be there." It's ironic that at 78 years old I prayed, "Lord, take me there."
What changed? To begin with I don't think Parchman can be identified as notorious anymore. Oh, don't get me wrong. There are some bad and frightening men there, and they are separated from less dangerous types by being in their own unit together. I've heard stories that evil is sensed the moment someone walks into that unit. The prisoners are extremely dangerous. But there is another impression that is sensed at Parchman, which is the presence of God who wants to bring freedom.
I met with Superintendent Mark McClure, Head Chaplain Ron Olivier' and Chaplain Reggie Watts. It is obvious to me that these men are creating a culture change which is making Parchman less notorious, for they are bringing Christ there. For those who feel they need to take Christ to Parchman, I've got good news for you. He's already there. But the Warden and the Chaplains know the inmates need discipleship. That's where we come in.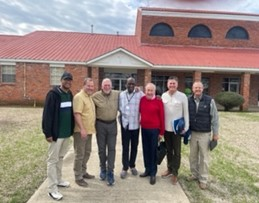 George Carnall and Marc Merk are Influencers in the Memphis Regional Ministry, leading Journey Groups around the region, and as well making other amazing contributions to their churches and communities. George planted the seed and both he and Marc have played strategic parts together, as a Journey Group is now active at Parchman. They have plans and an invitation from the warden to start several more groups. Another member of the team is Bryan Ward. Unfortunately, he was unable to attend our meeting at Parchman because of catching Covid. So, he is not in the picture above.
Bryan is very much an important part of the prison ministry efforts in Mississippi, as he leads a large Journey Group at Marshall County Correction Facility. He is contagious with his love for the incarcerated people in prisons and jails, and he wants to introduce them to a life that will set them free from evil, even while they are incarcerated. In our experience with The Journey being used in California, Arkansas and Oklahoma prisons, we've seen a tremendous, life changing response by the inmates, and indeed Jesus sets prisoners free from the evil that has led them to those prisons. The Influencers I've mentioned live out the passage above, as they are servant leaders who are concerned for the souls of the men there, and therefore go to people who are eagerly waiting for the Good News.
People ask me how Jesus can set men and women free in prison, when it is obvious, they are still locked behind bars? If you have read one of my books that discusses the "Refugee Camp," you will understand that mankind without Christ is already in spiritual bondage to evil. It doesn't matter one's station of life, success or lack of it, culture, race, or creed. We are born into a world spiritually dying at the point of life. I know it sounds dismal. But it is Biblical truth and is why we need our Redeemer Jesus to set us free from the chains of evil that oppress us and leads us to spiritual death. What I'm sharing is simply the Gospel.
The prisoners in any prison could be a great representation of Refugees in the Refugee Camp, for all pretentions are removed. Their dignity is removed, and they live in a place surrounded by remorse and sadness, until Light shines on them. This Light is the Light of Jesus that people like Mark McClure, the Chaplains, Influencers like George, Bryan and Marc bring into the prisons. They bring the Light of Jesus and when they do chains fall off these men. Because there has been such a great response and awakening to Christ, Warden McClure has told us to begin as many Journey Groups as possible. We have his full backing.
As I wrap up this blog about what I saw and experienced at Parchman Prison, I feel that a great awakening is about to happen. In fact, we may very well see released prisoners setting all kind of people free in and out of prisons, such as Chaplains Olivier' and Watts. You see, earlier in their life, these men served sentences of better than 20 years in Angola prison in Louisiana. It was there that they found their freedom in Christ first, and then they were given their freedom from prison, only to reenter Parchman to continue to set prisoners free, as Chaplains. Isn't God wonderful? I thank Him for letting me see and hear these people so that their stories can be shared. I went there to fan their flame. But as is the case everywhere I went, they fanned my flame. Next week the tour continues into Alabama.
March 28, 2023
Memphis
In the early formation of Influencers, a man from Memphis heard about the ministry. I think he read my first book, The Prayer Cottage and the Sacred Garden, when it was in manuscript form and before it was published. He wanted to know more, and he then drove to NWA to understand our uniqueness and our heart. This man is Howard Jones. As a result of his interest and desire to introduce our discipleship process to the greater Memphis area, he launched his first group. He could tell that the group was taking it off course, so he shut it down. He innately understood the delicate DNA that we often speak of with The Journey, and he wanted to protect it. He tried again with another group, and it also failed to get traction. But he persisted, and traction with the next group took hold, and The Journey was completed and would become entrenched in the greater Memphis area and North Mississippi. This is an example of sowing and reaping. It takes time and patience. But when God is in it, there will be an exponential growth, which has occurred since the humble start of a godly man.
Next God raised up a man and his wife from one of Howard's Journey groups. Jay and Nichole Thompson responded to the call, and Jay became our first Regional Director in the Memphis Region. Nichole would follow and be a powerful influence with taking The Journey to women in the area. This couple is a powerful team, and the fruit born and produced there is obvious, as many people and churches have been introduced to The Journey and are now making disciples using the process.
I'll have to say that Jay kept me busy, which I requested. I wanted to show our gratitude for the job well done with their efforts with making disciples. That's why I call it fan the flame. The fire is already burning brightly there, and none more than Dan Medley who arranged this gathering. His passion for disciple making with The Journey could make him our finest spokesman. There were more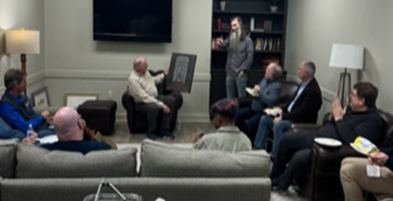 men there than the picture represents. These men are champions in their own right. In fact, I feel that we are joining them, and the call God has placed on their lives. This is why I love getting out to our regions and areas of Journey activity. I see so much that God has done and is doing, and it gives me a depth of thankfulness that Papa deserves. I feel like I joined a family that I now have, but didn't know before. But isn't that the way it should be? I think so, and this tour is giving Sallie and me a unique opportunity to experience it.
Speaking of my wife Sallie. She had back surgery the week before our tour began. We were concerned that it might delay our trip. But our gracious God gave her relief, and the hours she spent in the RV while I was out and about gave her the rest she needed. Our time in Memphis was shared with Greg and Jamie Huett. It was a joy having our time with them, and especially for me as Greg and I joined other Influencers when we went to Parchman Prison in Mississippi to support a flame that has already begun there. My next blog will share that story.
As I wrap this account up about the Memphis Regional ministry, I will say that my limited words do not say enough to pay homage to the great work God is doing there. I saw godly leaders who have a passion for Christ. They've been awakened to His love, and they abide in Him while helping others find what they've found. I've seen this to be true all over the country and in foreign lands. Simply getting a believer to an intimate, abiding relationship with Christ nurtures a new man or woman to the surface of their life. It begins at the heart and radiates from there, and when the Spirit of God is leading and showing Himself through a life, a flame of joy and passion touches lives. This is what I saw in Memphis.
Howard Jones was used to start a spark that has turned into a flame in Memphis. He asked God to use him, and indeed God has done so. May we all seek and find what we are longing for and then help others find it as he did. There's a name for doing this. It is called discipleship.
March 21, 2023
Introduction
You may already know that my wife and I are initiating trips this year to visit with centers of Journey activity throughout the country. We began our first trip last week by starting in Memphis and Mississippi, then moving on to Tuscaloosa/Coker and Montgomery, Alabama. I want to share the stories of the leaders in these areas, their inspiration and the fruit being born through these men and women who are abiding with Christ. Before doing so I think it important that you know that our Global Board sees these leaders as the expression of this ministry, as they share Jesus' call to His family to abide in Him. For this reason, the Global Board encouraged my interest to go to these locations. Sallie and I are tremendously excited to do this, and after our first exposures in the four areas mentioned, I am convinced we did it by the Lord's leadership.
What do I mean by "fan the flame?" Paul mentioned the same in his letter to his young protégé Timothy:
"This is why I remind you to fan into flames the spiritual gift God gave you when I laid my hands on you. 7 For God has not given us a spirit of fear and timidity, but of power, love, and self-discipline." 2 Timothy 1:6-7 (NLT)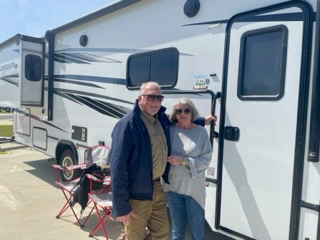 Often leaders are lonely and depleted from busy ministry activity. They are also overlooked and can feel unappreciated. This leads to discouragement, and their flame for discipleship can grow dim. We want to fan their flames by being servants who bring appreciation and any help that might be needed. I will say this. I thought we would bring encouragement. But any that we shared with our leaders and participants in the Journey was overwhelmingly returned many times over to us.
Speaking of encouraging friends of the mission of Influencers, is Greg and Jamie Huett. Greg is on our Global Board and has headed up our prison and jail ministry while representing the Board. Greg and Jamie accompanied Sallie and me by bringing their own RV. This was a great help to us, for we are novices with RV travel. It is not as easy as it looks. It was a great comfort to have them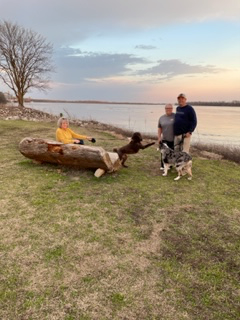 near for our trip to Memphis. They returned home after four days, and Sallie and I continued our trip into Alabama. But Greg's presence while we visited Parchman Prison in Mississippi, was essential. More on that later.
Sallie and I will be married fifty-five years this year, and our love for each other grows stronger each year. I'm so grateful to have her co-laboring with me on this endeavor, and in fact, I see her spiritual gifts being fanned into flame as she offers her own unique brand of encouragement. Before deciding to buy an RV, I struggled with it for months. Our age. The vulnerability of seniors on the road, and the hostile conditions we read about all came to mind. There was also the issue of expense. Left alone with the decision, I would not have taken the chance. But with the leadership of the Lord, and support by Sallie and our Global Board, I felt a peace that we should follow the vision we both had to begin our fan the flame tour.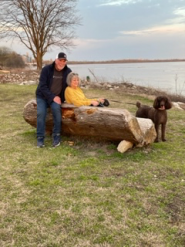 The groundwork of months of prayer and seeking wisdom from trusted sources prepared us for the endeavors I'm about to share with our readers. If God be willing our fan the flame tour will take us across the country for the next year and possible longer. We feel God's strength and protection in doing this. Ultimately it was a step in faith, and for that reason I feel that we are in a right place with it. So come along with the ride as I introduce you to some wonderful people, and the amazing movement of disciple making that we are seeing.