Influencers Prayer, Announcements
40 Days of Resurrection Prayer for Our Families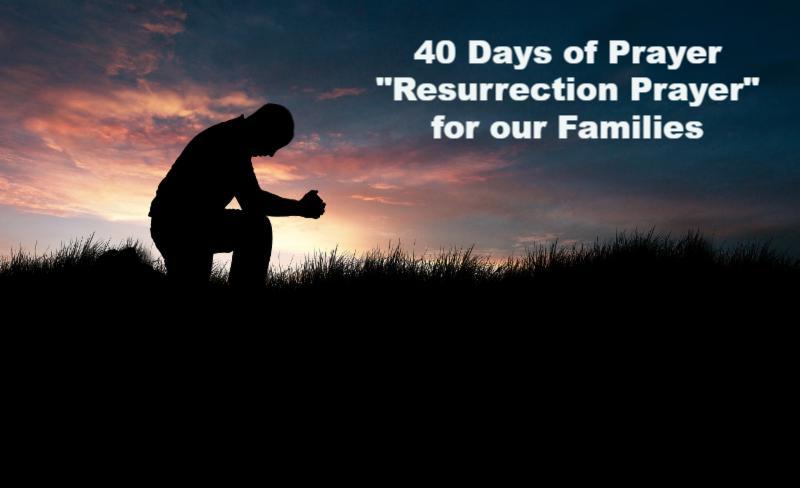 Join us for 40 Days of Prayer beginning Monday after Easter
Influencers is asking you to join us in 40 Days of Prayer for our Families, beginning the day after Easter.
We will be spending 40 days praying specifically for our families, believing that dedicated, intentional prayer changes things. When Jesus was resurrected, it was not the end of the story, but only the beginning. Similarly, we want to ask our risen Lord to help us with our burdens for our family members. As Influencers, we know our first ministry is to our families.
Here's how you can participate:
Set aside a specific time each day to pray for your family or set up a Prayer Group, perhaps a Journey Group or Community Group, to pray at a set time for families during this 40 days. Some people are setting up a Prayer Room at their house and getting their whole family involved in Prayer.
If you can, join us at the Influencers Global Office every Monday-Friday from 8:00-9:00 AM CST (1003 SE 14th St., Suite 5, Bentonville, AR) We are turning our conference room into a War Room, where you can write names around the room of those for whom you are interceding. You can pray for your needs, as well as for others. Men and Women alike are welcome to join us. FEEL FREE TO STOP BY OTHER TIMES DURING BUSINESS HOURS AND THE ROOM WILL BE OPEN UNLESS WE ARE IN A MEETING OR OUT OF THE OFFICE. On Saturdays and Sundays, we ask you to pray wherever you are during this same time. AND IF YOU DON'T LIVE IN NORTHWEST ARKANSAS, PRAY WITH US REMOTELY EVERY DAY DURING THIS SAME TIME.
You can submit a Prayer Request for you and your family members to be posted on our War Room wall for intercession. Send an email to

[email protected]

.