Influencers Devotionals
Abiding in Easter- Daily Lenten Thoughts 2021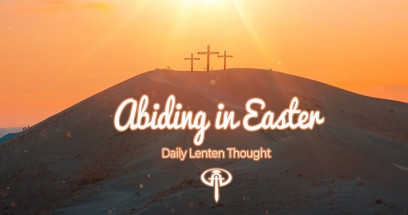 February 17, 2021
DAY 1
In those days Jesus came from Nazareth of Galilee and was baptized by John in the Jordan. And when he came up out of the water, immediately he saw the heavens being torn open and the Spirit descending on him like a dove. And a voice came from heaven, "You are my beloved Son; with you I am well pleased." The Spirit immediately drove him out into the wilderness. And he was in the wilderness forty days, being tempted by Satan. And he was with the wild animals, and the angels were ministering to him. Mark 1:9-13 ESV
Today is Ash Wednesday, the liturgical beginning of Lent. This is a part of some church traditions that is roughly the 40 days leading up to Easter. Its roots come from a desire to focus believers on Jesus and on spiritual disciplines in this Spring season leading up to the celebration of His death and resurrection. The original Latin word related to "Lent" means 40, and this connects to Jesus' 40 days of fasting and prayer in the wilderness before He started His public ministry.
Traditionally, many believers will "fast" from something during Lent to help them think of Jesus' sacrifice every day, leading up to Easter. I've done this many times, and I find it to be meaningful, helping me to be mindful. These daily devotional thoughts will hopefully stimulate your spirit during this Easter season and cause you to worship Jesus daily. We will focus on Jesus, His Deity, His Lordship, His Power, His fulfillment of God's plans and His love for us. Just as Jesus was tested those 40 days in the wilderness, we need to test our hearts to see if Jesus is truly the Lord of our lives. Give yourself to this daily examination and allow His Word and His Spirit to discipline and prune you. And just as the angels were with Jesus, ministering to Him, our Lord Jesus will be with you on this journey.
APPLICATION: Make a calendar appointment every day between now and Easter to meet with the King of kings. You might even put in your digital calendar. You might consider fasting from something during this season to help your physical being yield to your spiritual being.
February 18, 2021
DAY 2
And he came to Nazareth, where he had been brought up. And as was his custom, he went to the synagogue on the Sabbath day, and he stood up to read. And the scroll of the prophet Isaiah was given to him. He unrolled the scroll and found the place where it was written,
"The Spirit of the Lord is upon me,
because he has anointed me
to proclaim good news to the poor.
He has sent me to proclaim liberty to the captives
and recovering of sight to the blind,
to set at liberty those who are oppressed,
to proclaim the year of the Lord's favor."
And he rolled up the scroll and gave it back to the attendant and sat down. And the eyes of all in the synagogue were fixed on him. And he began to say to them, "Today this Scripture has been fulfilled in your hearing." Luke 4:16-21 ESV
This 30 year old man, who had been living in utter obscurity his whole life, comes on the scene and begins making fantastic claims about Himself. The religious leaders had no idea how to take this man. Yet, he had a way about him. He spoke with authority and passion. Their scriptures had told them a Messiah, a King was coming in the line of David, but they never pictured him as a simple carpenter from Nazareth.
This carpenter claimed to be anointed as a king would be, proclaiming freedom for those who had been held captive and oppressed. The leaders might have thought he was referring to the poor, but He was talking about ALL people who are ensnared by the things of this broken world. For all who would receive Him, it truly would be the moment of the Lord's favor.
APPLICATION: When you think of Jesus, do you think of "religion" or "rules" or "out of touch"? Do you recoil at His words? Or does Jesus and His offer of freedom resonate with your heart's desire today?
February 19, 2021
DAY 3
"I saw in the night visions, and behold, with the clouds of heaven there came one like a son of man, and he came to the Ancient of Days and was presented before him. And to him was given dominion and glory and a kingdom, that all peoples, nations, and languages should serve him; his dominion is an everlasting dominion, which shall not pass away, and his kingdom one that shall not be destroyed. Daniel 7:13-14 ESV
You've heard Jesus called the King of kings. When Jesus came, it was the beginning of establishing a new kingdom. Earthly kingdoms come and go and often fall into demise because of evil leaders. The Kingdom of God is everlasting and will never be destroyed. A few years ago, a man taught me that when it comes to our possessions, most Christians feel like there is God's kingdom and our kingdom. Our kingdom is our life and everything we've accomplished and accumulated. When it comes to tithing, many feel like it is about them taking a portion of their kingdom and giving it to God's Kingdom. This man said, "No! There is one kingdom. We are all but merely stewards of a small portion of His kingdom." This really transformed my thinking about my life and possessions. And, yes, Jesus wants ALL people, all countries, all languages, all races to become citizens of His kingdom.
APPLICATION: Are you a part of God's Kingdom? Are you still trying to rule your own kingdom? Wouldn't you rather be part of an everlasting kingdom?
February 20, 2021
DAY 4
"The Father loves the Son and has given all things into his hand. Whoever believes in the Son has eternal life; whoever does not obey the Son shall not see life, but the wrath of God remains on him." John 3:35-36 ESV
God loves Jesus. Make no mistake. Just because He sacrificed Him on the cross for us, it does not minimize Jesus in any way. As a matter of fact, it glorified Jesus. Now, God asks us, "Do you believe in My Son?" We show we believe or not by how we act. If we believe Jesus is everything that Scripture says He is and that He died for our sins, it should produce a desire to worship, a heart of gratitude, a willingness to serve Him. He wants to give us eternal life after this life fades away. If we do not receive Jesus, we are left to receive God's punishment for our sins, and we will not receive eternal life. Which do you choose?
APPLICATION: Do a heart check. Do you truly believe in Jesus? Do your actions prove it?
February 21, 2021
DAY 5
"Not everyone who says to me, 'Lord, Lord,' will enter the kingdom of heaven, but the one who does the will of my Father who is in heaven. On that day many will say to me, 'Lord, Lord, did we not prophesy in your name, and cast out demons in your name, and do many mighty works in your name?' And then will I declare to them, 'I never knew you; depart from me, you workers of lawlessness.'" Matthew 7:21-23 ESV
This can be a troubling passage. We can prophesy in the name of Jesus, cast out demons and do other mighty works, and still not know Jesus. It is clear that Jesus is not enamored with our religious works. He is looking for an abiding relationship with us. It is our relationship with Him that allows us entrance into heaven. If we abide in Him, if we seek Him first, if we delight in Him, then we are able to do the kind of works He desires, namely loving people. We don't work our way to heaven or into a relationship with Jesus. He is waiting for us with arms wide open, right now.
APPLICATION: Have you measured your relationship with God and Jesus by how much you have done for them? Perhaps it is time to just sit still with Jesus, tell Him you love Him and ask Him what He would like you to do.
February 22, 2021
DAY 6
Now as they went on their way, Jesus entered a village. And a woman named Martha welcomed him into her house. And she had a sister called Mary, who sat at the Lord's feet and listened to his teaching. But Martha was distracted with much serving. And she went up to him and said, "Lord, do you not care that my sister has left me to serve alone? Tell her then to help me." But the Lord answered her, "Martha, Martha, you are anxious and troubled about many things, but one thing is necessary. Mary has chosen the good portion, which will not be taken away from her." Luke 10:38-42 ESV
You may have heard this story before of these two sisters. One was an "A-type" or Enneagram #1 personality and she wanted to serve Jesus, probably wanting everything to be perfect. This was honorable, and I'm sure Jesus appreciated it. Yet, her sister just wanted to sit at his feet and listen to Him. When Martha complains, Jesus says a very important thing, "But one thing is necessary," as He refers to Mary. Once again, busy activity does not equate to intimacy with Jesus. He doesn't want us trying to earn His love, but He wants us to desire to be with Him.
APPLICATION: Are you a Martha or Mary? If Martha, try to think how you get to know Jesus better (more time in His Word, prayer, listening). If you are a Mary, don't miss the things Jesus may be asking you to do out of your time with Him.
February 23, 2021
DAY 7
"Come to me, all who labor and are heavy laden, and I will give you rest. Take my yoke upon you, and learn from me, for I am gentle and lowly in heart, and you will find rest for your souls. For my yoke is easy, and my burden is light." Matthew 11:28-30 ESV
Yes, Jesus came to die for our sins, but He also came to show how much He wants to minister to us now, not just in heaven. Just like He took the punishment for our sins, He offers to carry our burdens as well. All of this pain and trials and struggles give Jesus an opportunity to shine. When we quit striving to solve all our own problems or escape them and we come to Him, we find rest for our weary souls. Our circumstances may not change immediately, but He brings peace amidst the storm. It's true.
APPLICATION: Have you tried everything else to solve your problems, except humbly asking Jesus for His help? Perhaps your solution is only one prayer away.
"For the day of vengeance was in my heart, and my year of redemption had come. I looked, but there was no one to help; I was appalled, but there was no one to uphold; so my own arm brought me salvation, and my wrath upheld me." Isaiah: 63:4-5
I've heard many people talk about the "God of the Old Testament" who seemed angry and wrathful, compared to Jesus, who was more of a gentle, but strong, Shepherd who had grace, empathy, compassion. What we need to understand is that God is Holy and holiness cannot stand evil and impurity and disobedience and sin. Holiness demands punishment for iniquity. All of the wrath that God demonstrated in the Old Testament was poured upon Jesus as He suffered on that Cross. No one on earth could satisfy this requirement for holiness except one. God Himself had to step into earth in the form of His Son, Jesus, to bring salvation to His creation.
APPLICATION: Are you afraid of God or see Him as a Heavenly Police Officer, just waiting for you to screw up so he can nail you? Journal about the fact that this God allowed Himself to be killed to save you.
February 25, 2021
DAY 9
"And when you fast, do not look gloomy like the hypocrites, for they disfigure their faces that their fasting may be seen by others. Truly, I say to you, they have received their reward. But when you fast, anoint your head and wash your face, that your fasting may not be seen by others but by your Father who is in secret. And your Father who sees in secret will reward you." Matthew 6:16-18 ESV
Perhaps you are participating in Lent in the traditional way by fasting from something. Have you already caved in? Fasting doesn't seem that hard until we decide to do it for the Lord, and then you feel intense pressure coming against you not to do it. Just know that fasting is God's idea, to help you draw closer to Him in your weakness. It's not meant to be boastful or public in any way, but a private, secret thing between you and God. Every time you do desire that which you have given up, and you make a decision of the will to deny yourself, it is an act of worship. You will feel the Lord's pleasure. During this Lenten season, every time you feel the pain of desiring that from which you are fasting, let the pain remind you of Jesus' pain on the Cross. It will help you put your pain into perspective.
APPLICATION: Dedicate this Lent journey to Jesus. If you feel you have failed, get up and re-dedicate yourself. Write about this in your journal and pray about it.
February 26, 2021
DAY 10
From that time Jesus began to preach, saying, "Repent, for the kingdom of heaven is at hand." Matthew 4:17 ESV
If you are a believer and follower of Jesus and you want to join Him on His journey to the Cross this Lenten season, you should know that the major theme of all of Jesus' sermons and teachings was "Repent". I know this may seem a churchy word, but it means "feel or express sincere regret or remorse about one's wrongdoing or sin." Jesus came not only to die for us, but also to show us a better way to live on this earth. He knew that as long as we lived in sin, we could not enjoy the abundant life He wants to give us. If we are living in willful sin, are we really followers of Christ?
APPLICATION: Pray and ask Jesus if there is any sin in your life, of which you need to repent. You may know the answer before you even pray. If you want to follow Jesus this Lenten season, this is what you need to give up today.
And behold, some people brought to him a paralytic, lying on a bed. And when Jesus saw their faith, he said to the paralytic, "Take heart, my son; your sins are forgiven." And behold, some of the scribes said to themselves, "This man is blaspheming." But Jesus, knowing their thoughts, said, "Why do you think evil in your hearts? For which is easier, to say, 'Your sins are forgiven,' or to say, 'Rise and walk'? But that you may know that the Son of Man has authority on earth to forgive sins"—he then said to the paralytic—"Rise, pick up your bed and go home." Matthew 9:2-6 ESV
I love this story, as someone who believes Jesus still heals people today through the power of His Spirit. He is making a strong point that this life is temporary, even our health. All those whom Jesus healed eventually died. We must turn our eyes off the temporary and begin to look at eternity. Jesus came so that our sins could be forgiven and we could go to Heaven. Yet, so often, we have our requests we want to make of Him. We want Him to fix our problems now. Perhaps we should always start our prayers by thanking Him for forgiving our sins. And He is so gracious, He wants to help us also with everything else.
APPLICATION: Do you need something from Jesus today? First, have you asked Him to forgive your sins? Spend some time with that thought and what it means before you ask Him for anything else.
February 28, 2021
DAY 12
And he said, "Go, and say to this people: "'Keep on hearing, but do not understand; keep on seeing, but do not perceive.' Make the heart of this people dull, and their ears heavy, and blind their eyes; lest they see with their eyes, and hear with their ears, and understand with their hearts, and turn and be healed." Isaiah 6:9-10 ESV
The prophet Isaiah was hearing an admonition from God, not just for his current generation, but this speaks to Jesus' time on earth and to today. So many do not have eyes to see or ears to hear the good news of faith in Jesus Christ. The things of this world, the selfish desires, have dulled many to understand the things of God. This is why we see so much moral erosion in our society, even among those who call themselves Christians. Jesus is calling out to us. He wants to open our eyes and ears and give us understanding and healing.
APPLICATION: Do you feel like there is more that Jesus wants you to see and hear about Himself? Are you tired of trying to find all your satisfaction in this world? Tell Jesus you are ready to receive all He wants to give you.
March 1, 2021
DAY 13
"My sheep hear my voice, and I know them, and they follow me. I give them eternal life, and they will never perish, and no one will snatch them out of my hand. My Father, who has given them to me, is greater than all, and no one is able to snatch them out of the Father's hand. I and the Father are one." John 10:27-30 ESV
You may be familiar with the famous phrase that C.S. Lewis introduced, that as you consider Jesus, you must take Him either to be a Lunatic, a Liar or Lord. He deducts this mainly from the fact of what Jesus said about Himself in Scripture. This verse is an example where Jesus claims His Deity. We know Jesus to be the "Son of God." Just like an earthly son has his father's blood coursing through his veins, Jesus possessed His Father's holiness. He was God in flesh. He says this right after talking about protecting His followers, giving them everlasting life and saying that no one could snatch them out of his hand. What amazing words that should give you and I tremendous hope.
APPLICATION: Are you a believer in Jesus, Son of God, born of the virgin, Mary, who died on the Cross, was buried, and three days later, rose from the dead? Do you follow Jesus? If so, you have no fear of death or eternity. You are with Jesus forever.
March 2, 2021
DAY 14
For it was not to angels that God subjected the world to come, of which we are speaking. It has been testified somewhere,
"What is man, that you are mindful of him,
or the son of man, that you care for him?
You made him for a little while lower than the angels;
you have crowned him with glory and honor,
putting everything in subjection under his feet."
Now in putting everything in subjection to him, he left nothing outside his control. At present, we do not yet see everything in subjection to him. But we see him who for a little while was made lower than the angels, namely Jesus, crowned with glory and honor because of the suffering of death, so that by the grace of God he might taste death for everyone. Hebrews 2:5-9 ESV
Jesus baffled the world when He came to us. He came in a humble manger, lived in a carpenter's household and hid in obscurity most of his life. He did not appear to be of holy royalty. This verse from Hebrews even says Jesus was made lower than the angels. Yes, this King of kings, because of a greater plan, allowed Himself humiliation, disgrace, rejection, suffering and death. As much good as He did and love that He showed, so many hated Him. For a moment, the world seemed out of control and evil appeared to be winning. Yet, when He breathed His last breath, He accomplished everything He had planned. His life, His death, was for us.
APPLICATION: Have you thought much about how personal Jesus' mission was? Do you believe He died on that cross for YOU? Have you thanked Him lately?
March 3, 2021
DAY 15
"Is such the fast that I choose, a day for a person to humble himself? Is it to bow down his head like a reed, and to spread sackcloth and ashes under him? Will you call this a fast, and a day acceptable to the Lord? Is not this the fast that I choose: to loose the bonds of wickedness, to undo the straps of the yoke, to let the oppressed go free, and to break every yoke? Is it not to share your bread with the hungry and bring the homeless poor into your house; when you see the naked, to cover him, and not to hide yourself from your own flesh?" Isaiah 58:5-7 ESV
For those of you who have chosen to fast from something during Lent, I pray your sacrifice has been helpful in reminding you of Jesus' sacrifice for you. But I hope it has not become legalistic or a burden which is stealing your joy. I hope you are not being boastful in your great sacrifice. This passage in Isaiah speaks to the heart of Jesus. He was all about abiding with the Father and sacrificing His comfort or His body to worship God, but He also was about loving and serving others. Faith without works is dead. (James 2:17) So, let this sacred journey toward Easter be not just for our own benefit but let it flow to others around us.
APPLICATION: Examine your heart to see if Lent has been a burden more than a joy. Is it driving you closer to Jesus or toward self-pity? If so, confess this in your journal and prayer. Also, ask the Lord how you might make a sacrifice on behalf of someone else.
March 4, 2021
DAY 16
"Yet even now," declares the Lord, "return to me with all your heart, with fasting, with weeping, and with mourning; and rend your hearts and not your garments." Return to the Lord your God, for he is gracious and merciful, slow to anger, and abounding in steadfast love; and he relents over disaster. Who knows whether he will not turn and relent, and leave a blessing behind him, a grain offering and a drink offering for the Lord your God? Joel 2:12-14
God is always calling His children to Himself. He knows of our wayward ways and our sinful, unbelieving hearts. He is telling us to return to Him. It's okay if we are full of shame, regrets, sadness. We can come just as we are. There is a sign at a church in Alabama, which actually meets in a bar location. It's a bit unorthodox, but they are about loving ALL kinds of people. The sign says, "It's okay not to be okay." The Lord is gracious and loving, and He doesn't want to harm you. He wants to bless you. Come and walk with Him.
APPLICATION: Has this time of Lent exposed some darkness in your heart? Have you been a prodigal child, needing to return home? If so, what are you waiting for?
March 5, 2021
DAY 17
"Have this mind among yourselves, which is yours in Christ Jesus, who, though he was in the form of God, did not count equality with God a thing to be grasped, but emptied himself, by taking the form of a servant, being born in the likeness of men. And being found in human form, he humbled himself by becoming obedient to the point of death, even death on a cross. Therefore God has highly exalted him and bestowed on him the name that is above every name, so that at the name of Jesus every knee should bow, in heaven and on earth and under the earth, and every tongue confess that Jesus Christ is Lord, to the glory of God the Father. Philippians 2:5-11 ESV
On our journey toward Easter, we are attempting to consecrate ourselves before the Lord, offering our sacrifices and our hearts, trying our best to identify with Jesus. Paul encourages us to let our minds dwell on Jesus and what He did and Who He was. He was the consummate servant, even to death. Sadly, His life and death are lost on so many. They just don't seem to get it, or they don't want to get it. Know this, though, there will come a day when it will be clear to all of creation that Jesus and His name are to be worshipped and His lordship declared by all. I pray that a history of my life will have enough evidence to show that I bowed my knee to Jesus and confessed His name while I was on earth. When the day of completion comes, I will already be on my knees.
APPLICATION: Can you bow your knee before Jesus now and confess that He is your Lord? Is there anything holding you back? Think about who Jesus is and who He has been to you personally. If you dwell on this, it should create worship. If not, perhaps you don't know Him.
March 6, 2021
DAY 18
"Grace to you and peace from God our Father and the Lord Jesus Christ, who gave himself for our sins to deliver us from the present evil age, according to the will of our God and Father, to whom be the glory forever and ever. Amen." Galatians 1:3-5 ESV
You surely know that Jesus died on the cross for your sins, past, present and future. He was the atoning sacrifice, so that He can make us holy for heaven. But just as Jesus taught His disciples to pray, "Deliver us from evil," He offers grace and peace now. He offers shelter from all the evil we see in this world. He knows it is difficult living here. God recently showed me that one of the curses in the garden when Adam and Eve ate from the Tree of the Knowledge of Good and Evil was that we must live constantly with the knowledge of evil. We have eyes to see so much potential for evil, even within ourselves. This is grievous to us. Thankfully, we also have a knowledge of goodness and its potential and we have a Lord who wants to help us.
APPLICATION: Do you feel a need for deliverance from evil? Ask Jesus, the Lord, to help you and give you grace and peace in your time of need. He will do it.
March 7, 2021
Jesus said to him, "I am the way, and the truth, and the life. No one comes to the Father except through me." John 14:6
To me, this is one of the most powerful statements made by Jesus. In this world where people want to believe that all roads lead to heaven, that there are no moral absolutes, and that life is what you make of it, Jesus' words may seem "cringeworthy". Yet, it's true! Jesus is the only way to Heaven. Jesus is the only truth we can trust, and His truth is the Word of God. Jesus is the key to abundant life here and eternal life forevermore. I don't know about you, but I've tried other ways and truths and lifeplans. Jesus is the ONLY one that has brought me peace and fulfillment and made everything in my life better.
APPLICATION: Is Jesus your Way, your Truth, your Life? Write a confession of your faith in your journal.
March 8, 2021
DAY 20
Then the Lord God said, "Behold, the man has become like one of us in knowing good and evil. Now, lest he reach out his hand and take also of the tree of life and eat, and live forever—" therefore the Lord God sent him out from the garden of Eden to work the ground from which he was taken. He drove out the man, and at the east of the garden of Eden he placed the cherubim and a flaming sword that turned every way to guard the way to the tree of life. Genesis 3:22-24 ESV
Did you realize that two trees are mentioned in the story of Adam and Eve in Genesis? There was the Tree of the Knowledge of Good and Evil, from which they were forbidden to eat. But there is also mentioned the Tree of Life. There was no instruction not to eat from this tree. After the original sin, Adam and Eve had to be punished and were driven out of paradise. They could no longer eat from the Tree of Life now, which would have allowed them to live forever. When I meditate upon this tree of life, I cannot help but think of Jesus. We just talked about how He called Himself the way, the truth and the life. He also said He was The Vine, and we are His branches. Jesus is the way to eternal life. He is also the only way back to the Garden, back to paradise, as He took the punishment for the original sin.
APPLICATION: Are you eating from the Tree of Life? If you are feasting on His Word, abiding in His Spirit and experiencing His love, you are one step closer to your true home, back in the garden.
March 9, 2021
"He is the image of the invisible God, the firstborn of all creation. For by him all things were created, in heaven and on earth, visible and invisible, whether thrones or dominions or rulers or authorities—all things were created through him and for him. And he is before all things, and in him all things hold together."
Colossians 1:15-17
In case you didn't know, Paul is talking about Jesus Christ in the above letter to the Colossians. If you thought Jesus was "just a man", "just a prophet" or "just the Son of God", you are missing so much. Read the verse again and let it sink in. Jesus is everything. He is God, He is the firstborn of all creation, He is Creator, He is Father of all mankind, He is before all things. He holds all things together! If you've never heard Louie Giglio, a minister out of Atlanta, talk about Laminin, you should look it up on YouTube. Louie describes this complex network of proteins within our bodies that, in essence, "holds us together". When looked upon under a microscope, they form the shape of a cross. Yes! Jesus Christ is the essence of God and holds everything together.
APPLICATION: Are you guilty of minimizing Jesus? Are you hesitant to claim His Deity? Dwell on the beauty and power of who
Jesus is today. Write about it in your journal. Tell someone about Jesus today.
March 10, 2021
DAY 22
"And He is the head of the body, the church. He is the beginning, the firstborn from the dead, that in everything he might be preeminent. For in him all the fullness of God was pleased to dwell, and through him to reconcile to himself all things, whether on earth or in heaven, making peace by the blood of his cross." Colossians 1:18-20 ESV
There was SO much power in Paul's description of Jesus in his letter to the Colossians, that I had to keep going a few more verses from yesterday. Jesus is "preeminent" in everything, the fullness of God was within Him. Again I say, Jesus was no ordinary man, or just a good teacher or just a kind servant. He was Holy, He was powerful, He was GOD! He is the bridge between Heaven and Earth, the ONLY ONE who can reconcile this broken world and original sin and give us passageway to Heaven. Please know this to be the truth. All else is a lie. His blood, at the expense of his torturing and suffering, brings us peace.
APPLICATION: Who do you say He is? Though your mind may not be able to grasp all that Jesus is, can you surrender your desire to understand and just trust Him? Once you cross that bridge, you will find the peace you desire.
March 11, 2021
DAY 23
Because of all my adversaries I have become a reproach, especially to my neighbors, and an object of dread to my acquaintances; those who see me in the street flee from me. I have been forgotten like one who is dead; I have become like a broken vessel. For I hear the whispering of many—terror on every side!—as they scheme together against me, as they plot to take my life. But I trust in you, O Lord; I say, "You are my God." My times are in your hand; rescue me from the hand of my enemies and from my persecutors! Make your face shine on your servant; save me in your steadfast love! Psalm 31:11-16 ESV
Scripture and prophecy are so interesting. God inspired King David as he wrote this psalm out of his own struggles and perspective. Basically, David was journaling…hence, the importance of journaling. But David had no idea he was also describing our Lord Jesus, his great, great, great, great…grandson, who would face a very similar scene 1000 years later. In Psalm 31:5, David says the very words Jesus said on the cross, "Into Your hand I commit my spirit." You have to understand that Jesus, the Messiah, was foretold to come out of the line of King David, which all confirms a Master Plan from the beginning to end. So many Old Testament prophecies, like this one, point to Jesus and were fulfilled by Him. Here we are, a few thousands years later, still a part of that plan as we accept Jesus and He lives through us.
APPLICATION: If you are feeling persecuted, shunned, forgotten, avoided, threatened…take heart! Just like Jesus and King David, you can trust in God and His steadfast love.
March 12, 2021
DAY 24
And Jesus, aware of this, said to them, "Why are you discussing the fact that you have no bread? Do you not yet perceive or understand? Are your hearts hardened? Having eyes do you not see, and having ears do you not hear? And do you not remember? When I broke the five loaves for the five thousand, how many baskets full of broken pieces did you take up?" They said to him, "Twelve." "And the seven for the four thousand, how many baskets full of broken pieces did you take up?" And they said to him, "Seven." And he said to them, "Do you not yet understand?" Mark 8:17-21 ESV
In this passage, we see a situation where the disciples are hungry, and they are lamenting the fact that they have no bread. This is after they witnessed Jesus feeding 5000 people out of 5 loaves of bread and another occasion where he fed 4000 with 7 loaves. Somehow, those miraculous, amazing experiences were forgotten as a new need arose. Before we are too hard on the disciples, let us consider how many times we lament situations in our lives, complaining, grumbling, desperate, hopeless. We quickly forget all the times Jesus has shown up for us in times past. We must keep our eyes on Jesus and remember that He is the way, the truth and the life…actually He is also the "bread of life". He will meet our needs, even feeding us. But Jesus is always wanting to give us SO much more, if we will just trust Him.
APPLICATION: Do you have a need right now that you are bringing before Jesus? In the midst of your prayers, are you remembering times when He has met your needs before? First, ask Him to help you remember His faithfulness in times past and write down these memories in your journal. This will help you immensely.
"Whoever makes a practice of sinning is of the devil, for the devil has been sinning from the beginning. The reason the Son of God appeared was to destroy the works of the devil." 1 John 3:8 ESV
I love the way John states Jesus' purpose on earth so plainly… "to destroy the works of the devil." What is the work of the devil? Well, he's called the Accuser, the Father of Lies, the Evil One, among other names, and Jesus says the devil is a Thief and comes to steal, kill and destroy. (John 10:10) In the passage out of 1 John 3:8, John tells us another name for the devil, Sinner. He says that if we make a practice of sinning, basically, we are abiding in the devil. If you don't think the devil exists, check your Bible again. However, that is another way he works…to disguise himself as an angel of light (2 Corinthians 11:14) or suggest to us that he does not exist. Listen, we all have a sin nature and fall short, BUT we don't have to live in sin. Jesus Christ came to destroy sin, not just pay for our sins, but enable us to live above sin on this earth.
APPLICATION: Do you PRACTICE a certain sin? In other words, do you commit any sins regularly? If so, you need to know that Jesus came to deliver you from this sin. Confess it, repent (turn from it) and begin to walk in freedom today.
"Ask, and it will be given to you; seek, and you will find; knock, and it will be opened to you. For everyone who asks receives, and the one who seeks finds, and to the one who knocks it will be opened. Or which one of you, if his son asks him for bread, will give him a stone? Or if he asks for a fish, will give him a serpent? If you then, who are evil, know how to give good gifts to your children, how much more will your Father who is in heaven give good things to those who ask him!" Matthew 7:7-11 ESV
One of the beautiful things about Jesus is that He came to us as a man and helped us understand the spiritual life. He taught us about the heart of The Father and how to pray. I love this passage where Jesus says we can Ask, we can Seek and we can Knock. He says our loving Heavenly Father wants to answer our prayers, give us the treasure we seek and open doors for us. Maybe you didn't realize that God is for you and wants to help you. If you have children, think about your heart's desire for them. You really do want to give them the things they ask for and seek. Perhaps, you withhold something because it would not be in their best interest, and yes, our Heavenly Father does this as well. But our kids never stop asking, and we don't have to stop, either. The more we communicate with the Father, the more we will get to know His heart for us.
APPLICATION: Pause, close your eyes, take a deep breath. What are you asking God for right now? What are you seeking from Him? Are you knocking on the door to heaven? Don't hold back. Tell Him what's on your heart. Take time to listen for a response. Write about this experience in your journal.
March 15, 2021
Day 27
In the days of his flesh, Jesus offered up prayers and supplications, with loud cries and tears, to him who was able to save him from death, and he was heard because of his reverence. Although he was a son, he learned obedience through what he suffered. And being made perfect, he became the source of eternal salvation to all who obey him, being designated by God a high priest after the order of Melchizedek. Hebrews 5:7-10 ESV
Melchizedek is an important figure in the history of God's people. He was the King of Salem, and he brought bread and wine before Abram and blessed him. (Genesis 14) Then, it says Abram gave him a tenth of everything he had as a tithe. As you know, Abram would go on to become Abraham, the Father of God's people of faith. In those days, kings were the ultimate authority and priests were intermediaries between God and man. Melchizedek is considered a king and a priest, but there is amazing foreshadowing happening here. God was going to send One who would be a King and Priest forever. He would become the ultimate authority, but He also would bridge the gap between man and God forever. He suffered and He cried out to God, all on our behalf. All other kings and priests are only men, not capable of perfection and holiness. But Jesus, the One and Only, is perfect and holy and He saves us.
APPLICATION: Are you still putting your faith in man or man-made systems, including your church or your pastor or priest? Sadly, they will fail because they are imperfect. Put your trust and your life in the hands of the only One who is perfect. Write about it in your journal or tell someone about this truth.
March 16, 2021
DAY 28
That evening they brought to him many who were oppressed by demons, and he cast out the spirits with a word and healed all who were sick. This was to fulfill what was spoken by the prophet Isaiah: "He took our illnesses and bore our diseases." Matthew 8:16-17 ESV
We continue our journey toward Easter by daily meditating on this Jesus and who He was and who He is to us today. Jesus was a healer. There are SO many accounts of Jesus healing those who were sick and casting out demons. This was a major part of His ministry. When He sent out the 12 disciples to go and spread the good news to various cities, He told them they had power to heal the sick (Luke 9:1-2). Later, He sent out 72 followers and told them the same thing. (Luke 10:9) Jesus knew that many were afflicted with physical sickness and that healing would be a sign of His power and a gateway to their hearts. Think of today. I've never seen a hospital that was empty. People regularly take sick days. Sickness and disease plague us. If Jesus is the same yesterday, today and forever (Hebrews 13:8) and His Spirit lives in those of us who believe, shouldn't we expect to see healing power today? I know God uses modern medicine and gifted doctors to heal, but often, we only go to God as last resort- "Well, there's nothing left to do but pray." Perhaps, that should be the first thing we do!
APPLICATION: If you or someone you love are sick, have you asked Jesus to heal you? Is there someone in your life who needs healing? Could you come alongside them and pray for them, asking Jesus to heal them? We ask and then we trust…His will be done. If He doesn't heal physically, often He fills hearts with love and faith and heals spiritually.
March 17, 2021
DAY 29
He committed no sin, neither was deceit found in his mouth. When he was reviled, he did not revile in return; when he suffered, he did not threaten, but continued entrusting himself to him who judges justly. He himself bore our sins in his body on the tree, that we might die to sin and live to righteousness. By his wounds you have been healed. For you were straying like sheep, but have now returned to the Shepherd and Overseer of your souls. 1 Peter 2:22-25 ESV
Maybe you are thinking, "This sounds like the same theme." Or "This verse has been used during this Lenten series." It feels that way because there are SO many verses about Jesus and His sacrifice. This is the Gospel. If a pastor only preached one message the rest of his life, this would be it. Maybe if we hear it 45 days in a row during Lent, it will finally sink in! Jesus was sinless and truthful, yet He suffered and died on the Cross, bearing our sins. He did this so we could die to sin and live in righteousness. We were sick with sin and destined for Hell, but by His sacrifice, we are healed. Those of us who believe this truth and have received it have found the green pastures of peace, right at Jesus, our Shepherd's feet.
APPLICATION: By Jesus' wounds, you are healed. Return to Him, worship Him, pray to Him, tell Him He is your Shepherd, your Master and your heart belongs to Him alone.
March 18, 2021
DAY 30
But Jesus called them to him and said, "You know that the rulers of the Gentiles lord it over them, and their great ones exercise authority over them. It shall not be so among you. But whoever would be great among you must be your servant, and whoever would be first among you must be your slave, even as the Son of Man came not to be served but to serve, and to give his life as a ransom for many." Matthew 20:25-28 ESV
As we journey with Jesus during this Lenten season, we are attempting to immerse ourselves in Him and try, in some small way, to identify with His suffering and sacrifice for us. In order for us to be more like Jesus, it truly must be transformational, for in many ways, it goes against everything we've ever known. From the youngest of ages, we are programmed that success, prestige, power, wealth, position are the goal. The more you have or have achieved, the more influential you are. Not so with Jesus! The most influential man to ever walk the earth, the one who started a worldwide movement with millions of followers, said it is best to be a servant, a slave, a living sacrifice. If we want to be remembered as great, Jesus says it comes not by notoriety, but by giving our lives away.
APPLICATION: How does this strike you? Be real. Do a heart check today. See if your motivations in life are mostly out of selfish desires or out of servitude. Can you try putting others ahead of yourself, starting at home? If you don't think you can, ask Jesus for help.
March 19, 2021
DAY 31
And as Moses lifted up the serpent in the wilderness, so must the Son of Man be lifted up, that whoever believes in him may have eternal life. For God so loved the world, that he gave his only Son, that whoever believes in him should not perish but have eternal life. For God did not send his Son into the world to condemn the world, but in order that the world might be saved through him. Whoever believes in him is not condemned, but whoever does not believe is condemned already, because he has not believed in the name of the only Son of God. John 3:14-18 ESV
Most of you are familiar with John 3:16, but it is interesting to ponder the verses around it. Verses 14 & 15 talk about Moses raising up a serpent. This is from Numbers 21 when the Israelites were wander in the desert and began to grumble against God. He sent serpents to attack them, and many of them died. When they repented, God told Moses to make a bronze serpent and put it on a pole. When the people were bit by a serpent, if they looked upon the bronze serpent, they would live. I know it's a strange story, but it's true. We have all been bit by the snake of sin and are destined to die. But instead of a bronze serpent, God lifted up Jesus onto a Cross, and He wants us to gaze upon Him, see His sacrifice, and live. If we will not do this, we are condemned.
APPLICATION: Close your eyes and picture Jesus on the Cross. Look into His eyes. Let your brain, your imagination and your spirit go to this place. Thank Him for saving you.
March 20, 2021
DAY 32
The next day the large crowd that had come to the feast heard that Jesus was coming to Jerusalem. So they took branches of palm trees and went out to meet him, crying out, "Hosanna! Blessed is he who comes in the name of the Lord, even the King of Israel!" And Jesus found a young donkey and sat on it, just as it is written,
"Fear not, daughter of Zion; behold, your king is coming, sitting on a donkey's colt!" John 12:12-15 ESV
We have been meditating for the past 4-1/2 weeks on Jesus during this Lenten journey. We've read Old Testament prophecies which point to Him and we've also looked at stories of Jesus' ministry through the Gospels, and we've read verses which reflected on His significance throughout the New Testament. For the next two weeks, we will join Jesus on the last days of His sojourn on Earth as a man. We enter into the drama and passion of His mission, a death mission.
When He rode into Jerusalem, he borrowed a donkey and fulfilled Zechariah 9:9, "…Behold, your king is coming to you; righteous and having salvation is he, humble and mounted on a donkey…" Once again, Jesus was no ordinary king. He was born in a barn and in his final triumphant entry into the city of His destiny, to be received by His people, he comes, not in a mighty chariot or a strong, tall stallion, but on a humble donkey, borrowed at that. The people worshipped him as they waved their palm branches and shouted, "Hosanna", which means "Savior". They recognized His Lordship, His Kingship, His Holy significance. Yet, in a few days, some of these same people will be shouting, "Crucify him!"
APPLICATION: Do you know Jesus as your Savior and king? Does His humility draw your respect and admiration, or do you want a different kind of king? Talk to God about your thoughts on this.
March 21, 2021
DAY 33
And Jesus answered them, "The hour has come for the Son of Man to be glorified. Truly, truly, I say to you, unless a grain of wheat falls into the earth and dies, it remains alone; but if it dies, it bears much fruit. Whoever loves his life loses it, and whoever hates his life in this world will keep it for eternal life. If anyone serves me, he must follow me; and where I am, there will my servant be also. If anyone serves me, the Father will honor him." John 12:23-26 ESV
Last November, I lost my Dad to COVID. It all happened rather quickly in a 3-week time period. It was unexpected and tragic and sad, but I was an eyewitness to a truth that Jesus is stating here. In the midst of my Dad's death, hundreds, if not thousands of people followed his story and were praying to God for his healing. Countless expressions of love came our way in phone calls, texts, flowers, cards, meals, social media posts. In the spiritual world, death bears great fruit. Jesus' death, of course, would bear the greatest fruit of all, salvation for all who believe in Him. But I believe Jesus is also talking about "dying to our self", even now, while we are still living. We can choose to put God first, others second and ourselves last. We can become servants, just like Jesus, looking for opportunities to give our lives away on behalf of others. I realize this is very counterintuitive and counter-cultural in this selfish world in which we live, but this is the way of Jesus. This is the way of followers of Jesus.
APPLICATION: Are you bearing much fruit in life by giving your life away? Spiritually speaking, have you attended your own funeral? Live your life like today is your last day, so that when your last day comes, a great fruit will be left behind in your legacy.
March 22, 2021
DAY 34
Now when Jesus was at Bethany in the house of Simon the leper, a woman came up to him with an alabaster flask of very expensive ointment, and she poured it on his head as he reclined at table. And when the disciples saw it, they were indignant, saying, "Why this waste? For this could have been sold for a large sum and given to the poor." But Jesus, aware of this, said to them, "Why do you trouble the woman? For she has done a beautiful thing to me. For you always have the poor with you, but you will not always have me. In pouring this ointment on my body, she has done it to prepare me for burial. Truly, I say to you, wherever this gospel is proclaimed in the whole world, what she has done will also be told in memory of her." Matthew 26:6-13 ESV
So much was going on during Holy Week as Jesus spent time in Jerusalem, and it all proved to be very significant. In this scene, Jesus is having dinner at the home of a man they called, "Simon the leper." It can be assumed that Simon was healed of leprosy since he was able to live in town among the people, and it is easy to guess that Jesus was the one who healed him. Again, here's Jesus, God incarnate, King of kings, spending one of his final days at the home of a leper. He truly was a man of ALL people. And this spontaneous anointing of oil was a huge statement. First, it was representative of His true kingship. They anointed kings when they were set aside for service. Oil also came to represent the Holy Spirit, which Jesus would send after His death and resurrection. Lastly, as Jesus states, this was prophetic as He would die only a few days later and be anointed for burial. God's plan was unfolding before their eyes.
APPLICATION: Sit still for a moment… close your eyes… picture this scene… smell the fragrant oil. Now, imagine what it would be like for Jesus to come to dinner at your house. Would you treat Him like a king?
March 23, 2021
DAY 35
"Now before the Feast of the Passover, when Jesus knew that his hour had come to depart out of this world to the Father, having loved his own who were in the world, he loved them to the end. During supper, when the devil had already put it into the heart of Judas Iscariot, Simon's son, to betray him, Jesus, knowing that the Father had given all things into his hands, and that he had come from God and was going back to God, rose from supper. He laid aside his outer garments, and taking a towel, tied it around his waist. Then he poured water into a basin and began to wash the disciples' feet and to wipe them with the towel that was wrapped around him." John 13:1-5
Like yesterday, we see another significant event happening over a meal. If you haven't yet discovered it, mealtimes with friends and loved ones offer great opportunities for ministry. This was His last meal with His disciples, and John says, "He loved them to the end." One of His last acts of love was an act of service. Jesus knew the time was near for His betrayal, arrest and crucifixion, and He models servant leadership for His followers, knowing that He wanted them to live a life of serving others after He departed. This was a dirty, humbling job, and it is clear that the disciples were shocked. Peter even protests, until Jesus makes it clear that receiving a blessing is as important as giving one. He even washed the feet of Judas, the one He knew was about to hand Him over to the Jews. Jesus' love knew no bounds.
APPLICATION: Are you a leader…in your family, in your workplace, in your church? Are you a servant leader, one who leads out of a place of serving those you are leading? Follow Jesus' lead and be blessed.
March 24, 2021
DAY 36
And when the hour came, he reclined at table, and the apostles with him. And he said to them, "I have earnestly desired to eat this Passover with you before I suffer. For I tell you I will not eat it until it is fulfilled in the kingdom of God." And he took a cup, and when he had given thanks he said, "Take this, and divide it among yourselves. For I tell you that from now on I will not drink of the fruit of the vine until the kingdom of God comes." And he took bread, and when he had given thanks, he broke it and gave it to them, saying, "This is my body, which is given for you. Do this in remembrance of me." And likewise the cup after they had eaten, saying, "This cup that is poured out for you is the new covenant in my blood." Luke 22:14-20 ESV
Most Christians know about "The Last Supper" and have taken "Communion" or "The Eucharist" at some point in their church experience. We take the bread or wafer and the juice or wine to remember the Lord's death until He returns. (1 Corinthians 11:26). It should always be a somewhat somber, special, worshipful time. Perhaps you've never fully recognized the significance of this Last Supper. It occurred, NOT coincidentally during the Passover, which was the celebration of God's deliverance of the Israelites from Egypt and salvation from the angel of death who was taking all firstborn children, except for those families who sacrificed a lamb and spread its blood over their doorposts. These firstborn were "passed over" and spared. Now, Jesus is instituting a new Passover. His body is about to be sacrificed the next day and His blood shed. For those who receive this sacrifice of this perfect Lamb of God, they become God's adopted children, His firstborn, and are spared eternal death. Just as Jesus was eager to eat the Passover meal with His closest followers, I believe He is eager to eat it with us, for it marks our adoption and our salvation.
APPLICATION: Sometime between now and Easter, make sure you take time to celebrate the Lord's supper, either with your church family or at home with your family. Be sure to take plenty of time for prayer and meditation and worship. This is the best meal you could ever eat.
March 25, 2021
DAY 37
"Abide in me, and I in you. As the branch cannot bear fruit by itself, unless it abides in the vine, neither can you, unless you abide in me. I am the vine; you are the branches. Whoever abides in me and I in him, he it is that bears much fruit, for apart from me you can do nothing." John 15:4-5 ESV
If you've been around the Influencers ministry at all, you know that we reference this verse all the time. We believe this is one of the most important teachings of Jesus, right before He died. In the book of John, this passage occurs right after they departed from the table of The Last Supper. Apparently, they were making their way to the Garden of Gethsemane, the place Jesus frequently prayed. Scholars believe He may have taught this lesson next to an actual grapevine. He just finished teaching them that they should "receive Him" in the wine and the bread, representing His body and blood. Now, He is saying "remain in Him", which is what the word "abide" means. He says if they would remain in Him, they will bear much fruit. We believe this fruit is the "Fruit of the Holy Spirit"….love, joy, peace, patience, kindness, goodness, faithfulness, gentleness and self-control. In other words, if we stay close to Jesus, we will start to look and act like Him. In this way, He could multiply Himself through all of us abiders to do His work in this world. But if we do not remain in Him, we can do nothing of spiritual value.
APPLICATION: Are you abiding in Christ? If you are not sure, how is your fruit production? If you seem to be lacking a good crop, it's not too late to change this. Get on your knees and ask Jesus to send His Spirit into your life to teach you how to abide. He will use His Word as His main teaching instrument, for the Word is from God. If you need some help, Influencers would invite you to join a Journey Group.
March 26, 2021
DAY 38
And they went to a place called Gethsemane. And he said to his disciples, "Sit here while I pray." And he took with him Peter and James and John, and began to be greatly distressed and troubled. And he said to them, "My soul is very sorrowful, even to death. Remain here and watch." And going a little farther, he fell on the ground and prayed that, if it were possible, the hour might pass from him. And he said, "Abba, Father, all things are possible for you. Remove this cup from me. Yet not what I will, but what you will." And he came and found them sleeping, and he said to Peter, "Simon, are you asleep? Could you not watch one hour? Mark 14:32-37 ESV
This scene in the Easter story is so troubling to ponder. Our Lord Jesus, a loving, innocent man, choosing to carry the weight of the sin of the world on His shoulders, is in horrible anguish. The last time we saw Jesus in this way was when He was weak and tempted in the desert when He first started His ministry. At the end of the 40 days of temptation, it says the devil left Him "until an opportune time." It surely seems like this was that time. Jesus, fully man and fully God, was distressed and troubled, even asking God to remove this cup from Him, yet thankfully, He says "yet not what I will, but what You will." This is why we should always pray, "Lord, Your will be done." If Jesus' prayer in His weakness was answered, and He did not go to the cross, all of mankind would receive our due punishment. Then, we would be the ones in agony, with no rescue plan.
This scene also depicts why we need fellow believers to stand watch with us. This reminds me of the time Moses was holding his arms up during a battle and the Israelites were winning, but when his arms lowered, they were losing. So, Aaron and Hur held his arms up. (Exodus 17:12-14) In the Garden of Gethsemane, Jesus needed His closest friends, Peter, James and John, to hold his arms up, but they were asleep on the job.
APPLICATION: Let this scene sink into your soul. Remember that this distress and anguish that Jesus felt was for you. Give Him proper thanks today for your salvation. Also, consider whether you have an inner circle you can stand with during times of temptation and struggle. Pledge to be that person for someone else.
March 27, 2021
DAY 39
While he was still speaking, Judas came, one of the twelve, and with him a great crowd with swords and clubs, from the chief priests and the elders of the people. Now the betrayer had given them a sign, saying, "The one I will kiss is the man; seize him." And he came up to Jesus at once and said, "Greetings, Rabbi!" And he kissed him. Jesus said to him, "Friend, do what you came to do." Then they came up and laid hands on Jesus and seized him. And behold, one of those who were with Jesus stretched out his hand and drew his sword and struck the servant of the high priest and cut off his ear. Then Jesus said to him, "Put your sword back into its place. For all who take the sword will perish by the sword. Do you think that I cannot appeal to my Father, and he will at once send me more than twelve legions of angels? But how then should the Scriptures be fulfilled, that it must be so?" Matthew 26:47-54 ESV
Now, the horror begins. All that Jesus knew was coming was now unfolding. One of his closest followers betrayed him for 30 pieces of silver (the equivalent of about $90.00). He even kissed him, a sign of affection, as he figuratively stabbed him in the back. And the mob with Judas is carrying clubs and swords as if they are in pursuit of a dangerous criminal. Jesus, the author of Love, was treated with so much Hate. Peter, the one who just failed Him by falling asleep rather than praying with Him, tries to rescue Him by striking one of the soldiers with his sword, cutting off his hear. Jesus stops any further retaliation, and even heals the soldier's ear. Once again, He baffles His followers and even His accusers. He willingly goes to his cruel destiny, and things will only get worse. But Jesus was on a mission from God, and He would fulfill it.
APPLICATION: Have you ever kissed Jesus on Sunday and then betrayed him the rest of the week? Have you tried to be faithful and yet, have been betrayed? Whatever the case, enter into this moment with Jesus, through the Holy Spirit, and talk to Him about His courage in an amazingly difficult situation.
March 28, 2021
DAY 40
Then they seized him and led him away, bringing him into the high priest's house, and Peter was following at a distance. And when they had kindled a fire in the middle of the courtyard and sat down together, Peter sat down among them. Then a servant girl, seeing him as he sat in the light and looking closely at him, said, "This man also was with him." But he denied it, saying, "Woman, I do not know him." And a little later someone else saw him and said, "You also are one of them." But Peter said, "Man, I am not." And after an interval of about an hour still another insisted, saying, "Certainly this man also was with him, for he too is a Galilean." But Peter said, "Man, I do not know what you are talking about." And immediately, while he was still speaking, the rooster crowed. And the Lord turned and looked at Peter. And Peter remembered the saying of the Lord, how he had said to him, "Before the rooster crows today, you will deny me three times." And he went out and wept bitterly. Luke 22:54-62 ESV
This is yet another very troubling scene. Peter, one of Jesus' closest followers, the one Jesus took aside on multiple occasions for extra mentoring, would deny knowing Jesus in the heat of the battle. Peter was always so zealous and boastful in his passion for Jesus. He had said he would go to prison and death for Jesus. However, the Lord told Peter that Satan had asked permission to sift him like wheat and that Peter would deny Jesus three times. (Luke 22:31-34) Courage was high when Jesus was nearby, but now, when facing danger alone, Peter crumbled. Worse yet, Jesus heard Peter deny Him and looked right at him. Peter was horrified and it says he remembered Jesus' foretelling of this, and he wept bitterly.
Judas betrayed Him, Peter denied Him and the rest abandoned Him. Jesus knows of our weaknesses, even among His followers. He knew how much we needed a Savior and how much we needed His Spirit to guide us. Jesus is the only man who ever lived or would live who could bear the cross He carried. Thankfully, Jesus redeemed our sin on the Cross, but He also turned Peter's sifting into a purification and refinement which made him the leader he needed to be in the early days of the church.
APPLICATION: Have you ever denied knowing Jesus? Have you ever been silent while others around you maligned Him? Have you ever wanted to blend into the crowd than stand out as a Jesus-follower? If you have, know that it could have been Satan tempting you and sifting you to see to whom you belong. If you have failed Jesus, grieve, weep, confess, repent, turn to Him, and He will restore you. You may find He will use it as a part of your future ministry for Him.
March 29, 2021
DAY 41
And the high priest stood up in the midst and asked Jesus, "Have you no answer to make? What is it that these men testify against you?" But he remained silent and made no answer. Again the high priest asked him, "Are you the Christ, the Son of the Blessed?" And Jesus said, "I am, and you will see the Son of Man seated at the right hand of Power, and coming with the clouds of heaven." And the high priest tore his garments and said, "What further witnesses do we need? You have heard his blasphemy. What is your decision?" And they all condemned him as deserving death. And some began to spit on him and to cover his face and to strike him, saying to him, "Prophesy!" And the guards received him with blows. Mark 14:60-65 ESV
This scene in Jesus' journey to the cross is one of the most disturbing to me. It's one thing to be accosted by Roman soldiers and those who don't know God, but to be among the religious leaders as they bring false accusations against Jesus and heap abuse upon Him, seems unforgivable! These are the ones who studied the scriptures and claimed to know God. The question they asked Him is the question that people are still asking today. Is He The Christ, the One foretold of in the Old Testament, the Holy One, the Rescuer of Israel, the Savior of the world? He said the same two words in response that God said to Moses (Exodus 3:14), when he asked God to give him His Name thousands of years before… "I Am." Yes, Jesus was the Son of God, a part of the triune God, the One destined to sit at the right hand of God, the One who would return to get His people someday. He was the great "I Am!" The sin nature of man is so evil that even in our religious pursuits, we can become prideful and blind and miss God when He is right in front of us.
APPLICATION: Do you believe Jesus is Who He says He is? Do you believe He sits at the right hand of the Father and is coming on the clouds to rescue us and take us to be with Himself? Did you know He left us His Spirit to teach us all things through His Word and to guide our consciences and our hearts into Truth? Has He become "religion", a set of rules and regulations or a routine to be followed? If so, you are not seeing Jesus as He is.
March 30, 2021
DAY 42
So Pilate entered his headquarters again and called Jesus and said to him, "Are you the King of the Jews?" Jesus answered, "Do you say this of your own accord, or did others say it to you about me?" Pilate answered, "Am I a Jew? Your own nation and the chief priests have delivered you over to me. What have you done?" Jesus answered, "My kingdom is not of this world. If my kingdom were of this world, my servants would have been fighting, that I might not be delivered over to the Jews. But my kingdom is not from the world." Then Pilate said to him, "So you are a king?" Jesus answered, "You say that I am a king. For this purpose I was born and for this purpose I have come into the world—to bear witness to the truth. Everyone who is of the truth listens to my voice." Pilate said to him, "What is truth?"
After he had said this, he went back outside to the Jews and told them, "I find no guilt in him. John 18:33-38 ESV
After the religious leaders heard Jesus' confession about Himself and condemned Him to death, they sent Him to Pilate, the political leader of the city. The religious leaders wanted to know if Jesus was a High and Holy Priest, one who might threaten their position, power, theology. Pilate, the politician, wants to know if he is a king, one who might infringe upon his turf. Everyone was trying to fit Jesus into some sort of category that made them comfortable. As Jesus explains to Pilate, His Kingdom is not of this world, so everyone needed to stop trying to understand Him in worldly terms. Yet, Jesus was and is the King of kings, the Lord of lords. Pilate has no idea how powerful Jesus was, that it was only by God's will that Pilate had any power in this situation.
And Jesus sums up why He came to earth as a man…to bear witness to the Truth! Remember that Jesus said He was the Way, the Truth and the Life. (John 14:6) Then, Pilate asks a question that, again, many are asking today, "What is truth?"
APPLICATION: Do you believe Jesus is the Truth? In this world where so many, like Pilate, are confused about faith, morality, sexuality, existence, is Jesus your gold standard of truth? If so, do you feel the same way about the Bible, for the Word is Jesus' truth? Do you serve Jesus' Kingdom or do you find yourself still trying to serve this world system?
March 31, 2021
DAY 43
Then the soldiers of the governor took Jesus into the governor's headquarters, and they gathered the whole battalion before him. And they stripped him and put a scarlet robe on him, and twisting together a crown of thorns, they put it on his head and put a reed in his right hand. And kneeling before him, they mocked him, saying, "Hail, King of the Jews!" And they spit on him and took the reed and struck him on the head. And when they had mocked him, they stripped him of the robe and put his own clothes on him and led him away to crucify him. Matthew 27:27-31 ESV
If you love Jesus, this scene in His Easter journey should jolt you to sadness. It is so hard to read the words of what happened to our Lord. Mel Gibson wanted to honor Jesus by depicting His sacrifice for us in the most realistic way possible in his film, "The Passion of The Christ." It is very difficult to watch, but even that is just a movie and cannot come close to grasping the evil indignity done to Jesus as we, His very creation, mocked Him and beat Him and spit on Him. Oh, I cannot fathom the pain He felt, not just the physical pain, but the heartbreak of mankind's rejection. It does not make sense. Why? Why would God allow Jesus to suffer in this way, for us? There is only one way to describe it. LOVE.
APPLICATION: Think of the worst injustice that you've ever experienced. Think of any sin you've ever committed or are committing today. Think about how you feel when someone innocent is punished publicly. Think about Jesus. Spend some time in prayer, talking to Him about the pain He endured for you.
April 1, 2021
DAY 44
Two others, who were criminals, were led away to be put to death with him. And when they came to the place that is called The Skull, there they crucified him, and the criminals, one on his right and one on his left. And Jesus said, "Father, forgive them, for they know not what they do." And they cast lots to divide his garments. And the people stood by, watching, but the rulers scoffed at him, saying, "He saved others; let him save himself, if he is the Christ of God, his Chosen One!" The soldiers also mocked him, coming up and offering him sour wine and saying, "If you are the King of the Jews, save yourself!" There was also an inscription over him, "This is the King of the Jews."
One of the criminals who were hanged railed at him, saying, "Are you not the Christ? Save yourself and us!" But the other rebuked him, saying, "Do you not fear God, since you are under the same sentence of condemnation? And we indeed justly, for we are receiving the due reward of our deeds; but this man has done nothing wrong." And he said, "Jesus, remember me when you come into your kingdom." And he said to him, "Truly, I say to you, today you will be with me in paradise." Luke 23:32-43 ESV
This is a long passage, but it is important for us to join the full drama of the Easter story. Much like we memorialize great tragedies in society with the mantra, "We will never forget," we must never forget what Jesus did for us. One of the most powerful things Jesus ever said is in this passage. In the midst of all the horrific ways they treated Him, after just nailing long spikes into his wrists and ankles and raising His cross into the air, so his body weight would eventually cause exhaustion and asphyxiation, Jesus says, "Father, forgive them, for they know not what they do." Unbelievable!!!!
Then, in a scene that must have been orchestrated by God, we see Jesus interact with two criminals who were being crucified beside Him. One hurls insults at Jesus and sees Him only as a potential way of escape. The other, in humility and reverence, publicly proclaims Jesus' innocence and His holiness. In one last act of public ministry, Jesus shows that He is the way, the truth and the life as He proclaims eternal life to the worshipful criminal.
APPLICATION: Are you harboring ANY unforgiveness toward anyone in life? If so, consider Jesus, our model, and how He could forgive the unforgivable. If you won't forgive, Jesus can't forgive you. (See Matthew 6:14-15) Love others, forgive others and by doing so, we show we love Jesus and we will join Him in paradise.
April 2, 2021
DAY 45
And when the sixth hour had come, there was darkness over the whole land until the ninth hour. And at the ninth hour Jesus cried with a loud voice, "Eloi, Eloi, lema sabachthani?" which means, "My God, my God, why have you forsaken me?" And some of the bystanders hearing it said, "Behold, he is calling Elijah." And someone ran and filled a sponge with sour wine, put it on a reed and gave it to him to drink, saying, "Wait, let us see whether Elijah will come to take him down." And Jesus uttered a loud cry and breathed his last. And the curtain of the temple was torn in two, from top to bottom. And when the centurion, who stood facing him, saw that in this way he breathed his last, he said, "Truly this man was the Son of God!" Mark 15:33-39 ESV
Today is Good Friday. It's always been strange to call this day "good" when our Lord Jesus died on this day. Just as we remember our loved ones' death days with sadness, we would hardly see them as good…unless we have an eternal perspective. For Jesus and all who believe in Him, death is not the end. This death of Jesus was good news, for it opened the door to Heaven for us. The curious line about what happened in the Temple, where the curtain was torn in two from top to bottom, has major significance. In the Temple, there was an inner sanctuary called the Holy of Holies, where the presence of God dwelt on earth. Only the high priest, once a year, could go through the curtain, to enter this sacred place. Even this was considered a dangerous proposition, for man could be struck dead in the presence of God at any moment.
As Jesus died, God tore the curtain to signify that there is no more separation between God and man. The "dividing wall of hostility", caused by the original sin of man and the resulting expulsion from paradise, was destroyed. (See Ephesians 2:14) All of us followers of Jesus are now granted priestly access to the Holy of Holies. This is good news!
APPLICATION: The "ninth hour" was 3:00 PM, so Scripture marks Jesus' time of death. So, perhaps you might stop what you are doing today at 3:00 PM and spend some time meditating on Jesus' death and praying to Him. Let the sadness of His pain and suffering and feeling forsaken slowly turn to joy, as you think of His death as your birth. Because He died, we can now live.
April 3, 2021
DAY 46
After these things Joseph of Arimathea, who was a disciple of Jesus, but secretly for fear of the Jews, asked Pilate that he might take away the body of Jesus, and Pilate gave him permission. So he came and took away his body. Nicodemus also, who earlier had come to Jesus by night, came bringing a mixture of myrrh and aloes, about seventy-five pounds in weight. So they took the body of Jesus and bound it in linen cloths with the spices, as is the burial custom of the Jews. Now in the place where he was crucified there was a garden, and in the garden a new tomb in which no one had yet been laid. So because of the Jewish day of Preparation, since the tomb was close at hand, they laid Jesus there. John 19:38-42 ESV
Two men, who were respected, wealthy Jews, but also secret followers of Jesus, took care of Jesus' burial. Like today, when someone dies, those who loved them wanted to give them a proper send-off. These two men loved Jesus. The 75 pounds of burial spices that Nicodemus brought to wrap Jesus in is said to be worth $100,000 in today's dollars. It is interesting how Jesus talked a lot about money and how the love of money can mislead us, but here is an example of two faithful followers who had great wealth who used their money with generosity for Kingdom purposes. I have known people like this who have been blessed with material wealth, but they do not view it as theirs. They see themselves merely as stewards of God's money. It is a beautiful thing to see.
And here is Nicodemus, the one who questioned Jesus about what it meant to be "born again." Little does he realize but he is about to see Jesus re-born as He rises from the dead into a resurrected body.
APPLICATION: Think about your last experience with death. Did you go to the funeral home? Did you go visit the family at home? Did you send flowers or bring a meal? Do you remember the feelings of sadness mixed with love and joy of seeing people caring for each other and hugging one another? Think about your love for Jesus and even for His mother Mary and the early followers. Do you empathize with what they were feeling? Pray about it.