Influencers Devotionals
Abiding Treasure- Life is Too Short to Withhold Love by Bryan Craig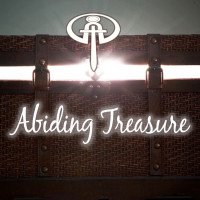 Scripture
By this we know that we abide in him and he in us, because he has given us of his Spirit. And we have seen and testify that the Father has sent his Son to be the Savior of the world. Whoever confesses that Jesus is the Son of God, God abides in him, and he in God. So we have come to know and to believe the love that God has for us. God is love, and whoever abides in love abides in God, and God abides in him. By this is love perfected with us, so that we may have confidence for the day of judgment, because as he is so also are we in this world. There is no fear in love, but perfect love casts out fear. For fear has to do with punishment, and whoever fears has not been perfected in love. 1 John 4:13-18 ESV
Thought
If you love the word "abide" and are seeking to understand it more, purchase an ESV translation of the Bible. You will find that John wrote about abiding many times more than just John 15. As a matter of fact, I think 1 John 4 is a very powerful chapter on abiding.
First, it says if someone confesses that Jesus is the Son of God, that's not only when salvation begins, but it is also when abiding begins, for God sends His Spirit to abide with us. Yes, we should know that we are abiding as we sense His Spirit within us. What does that mean. I believe the biggest barometer is Love. We feel His love, His forgiveness, His sacrifice for us. Our cold, hard hearts start to melt. We have a desire to love others, to forgive others, to change our cruel, selfish ways. We want to stop thinking of ourselves all the time and consider others better than ourselves. God is Love. Jesus is God. The Holy Spirit is of Christ. So, the Spirit is Love. He is wanting to perfect love in us. He says perfect love drives out fear.
When we are living a life of love, we know we are abiding in Him. It feels right and good. We don't fear death for we know this love will carry us into eternity. We don't fear judgment when we are living a life of love.
Application
First, do I confess that Jesus is the Son of God? Yes! I need to confess His name. I need to worship Him. I need to thank Him for His life and death for me. I need to let His love permeate me. We all desperately want to be loved, even the most despicable person on earth. Jesus is first in line wanting to love us. Receive His love.
Now, I need to give His love away. What does that look like? If I'm married, start with my spouse. If I have kids, go there next. How about other family members? How about my neighbors? How about my co-workers? How about my church? We don't have to go serve homeless people or go on a mission trip to give God's love away. Ask God for your love assignment today. It's not difficult. Think of how others you know like to be loved and get out of yourself and do something about it. Life is too short to withhold love!
Response
Lord, I'm sorry for taking Your love for granted. Or for not letting You love me because I didn't think I was worthy. I'm sorry for all the opportunities to love others I've squandered because I was too busy having a pity party or thinking of my needs. Lord, it's SO beautiful to know that You want to abide with me forever, which means Your love will abide with me. It truly does take away any fear I have. Lord, show me the people in my life who need love today and give me ideas on how best to show them love. I want to be an agent of Your love. Help me Lord in my weakness. I love you, Lord.