Influencers Devotionals
Abiding Treasure- Our Work Vs. The Lord's Work by Bryan Craig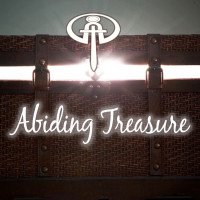 Scripture:
"Behold, you shall call a nation that you do not know, and a nation that did not know you shall run to you, because of the Lord your God, and of the Holy One of Israel, for he has glorified you. Seek the Lord while he may be found; call upon him while he is near; let the wicked forsake his way, and the unrighteous man his thoughts; let him return to the Lord, that he may have compassion on him, and to our God, for he will abundantly pardon. For my thoughts are not your thoughts, neither are your ways my ways, declares the Lord. For as the heavens are higher than the earth, so are my ways higher than your ways and my thoughts than your thoughts." Isaiah 55:5-9 ESV
Thought:
The Lord is doing great things! He is doing things that we can't even imagine or conceive. This reminds me of Ephesians 3:20 "Now to him who is able to do far more abundantly than all that we ask or think, according to the power at work within us…" We spend so much of our time on this earth trying to be useful. Somewhere along the way, someone taught us that it all depends upon us…our talent, our ingenuity, our strength, our creativity, our wit, our charm. Yet, our Lord speaks through Isaiah about a far greater harvest. We think about our small sphere of influence. He thinks about Nations! So, if I want to be part of His plans and His purposes, my job is to seek Him. If I have strayed away from His Lordship, putting all my plans in place under my control, my job is to return to Him. If we read on in Isaiah 55, we read about a great harvest. He says His Word and His plans will NOT be thwarted.
Application:
I've seen this dynamic in my own life and even in ministry. When we first discover the Lord and His beauty and power and grace, we are ready to follow Him to the ends of the earth. We are SO dependent upon Him. Then, we get a little bit of "success" in finding ourselves useful or seeing God use us to help others. There is a temptation to run out ahead of God and start making plans based on our perceived success. We can quickly forget Who really did the work. This is why Jesus told us to Abide in Him. This way, we will walk with His Spirit as we go about our days, and He will show us the work He wants us to do. He will keep us in sync with His strategies for the world. We may find nation's knocking on our door, asking for help. Let's daily seek, abide and praise Him for His glorious ways, even those we don't understand.
Response:
Precious Lord, thank you for your graciousness with me. Thank you that You alone are God and not me. Thank you for all the ways I see you working in the past and today, and for all the hope I have for tomorrow. Bless all our Influencers out there who you are going to use to do great things. Help them understand the things you spoke to Isaiah and to Your first disciples. Help them trust You as they seek you. Thank you for your love for us and for all the people in the world. Thank you for your rescue plan and for the joy you give us each day if we will only receive it. In Jesus' name. Amen