Influencers Devotionals
Abiding Treasure- The Hound of Heaven by Bryan Craig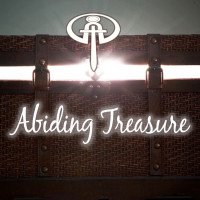 Scripture:
So he told them this parable: "What man of you, having a hundred sheep, if he has lost one of them, does not leave the ninety-nine in the open country, and go after the one that is lost, until he finds it? And when he has found it, he lays it on his shoulders, rejoicing. And when he comes home, he calls together his friends and his neighbors, saying to them, 'Rejoice with me, for I have found my sheep that was lost.' Just so, I tell you, there will be more joy in heaven over one sinner who repents than over ninety-nine righteous persons who need no repentance. Luke 15:3-7 ESV
Thought:
You've most likely heard this verse before and maybe so many times, that it has lost its punch. This is an amazing passage in which Jesus shows God's heart toward us. God is not sitting in His house, the church, waiting on sinners to come visit Him. No, He's pursuing them, coming after them, like a search party. Theologians in the past have called Him, rightly so, "The Hound of Heaven." So, not only did God create us and demonstrated His love for us by sending Jesus to save us, He comes after us. He doesn't shun us or hate us when we are living in sin and lost. He will go to the furthest shore, the deepest hole, the darkest place, to rescue us. I love the last line of this passage. All in Heaven rejoice when one of the lost are found! Did you ever consider that we have an audience in Heaven, watching us and cheering us on?
Application:
We have the Spirit of Christ within us, so we should have a heart for the lost, as well. How often do we get disgusted at those living in sin? How often are we so quick to judge and shun? These types of feelings are our flesh speaking. If we abide in Christ and yield to His Spirit, we will find a softening in our hearts. We will begin to feel sadness over sinfulness and not criticism and hate. We begin to pray for those in our life who are lost. We can all make a list of those people in our families, workplaces, communities, even our churches, who seem lost without Christ. We can begin to pray. If you do this, don't be surprised if God asks you to join the search party and be moved to action. It might be inviting them to church or to a Journey group. It might be sending them an encouraging card. It might just be loving them where they are so they can see what Love looks like. Then, one day, we may get to see them come home to Christ and we will get to rejoice along with the angels in Heaven.
Response:
Lord, give us a heart for the lost, especially people we know personally and have opportunity to influence for You. Thank you, God, that You love us SO much and pursue us, even when we are denying you, loving the world, living despicable lives. Your love knows no bounds. Lord, I want to be like you. Please use us to help bring the lost sheep home. Show us what we can do and we will be obedient. Forgive us for judging and hating and shunning. Lord, thank you for what you are going to do for those people we care about. We rejoice with You at your grace and Your goodness.