Influencers Devotionals
Abiding Treasure- Counted Worthy to Suffer by Bryan Craig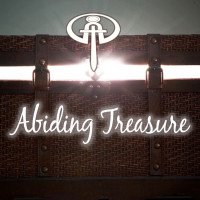 Scripture:
When they heard this, they were enraged and wanted to kill them. But a Pharisee in the council named Gamaliel, a teacher of the law held in honor by all the people, stood up and gave orders to put the men outside for a little while. And he said to them, "Men of Israel, take care what you are about to do with these men. For before these days Theudas rose up, claiming to be somebody, and a number of men, about four hundred, joined him. He was killed, and all who followed him were dispersed and came to nothing. After him Judas the Galilean rose up in the days of the census and drew away some of the people after him. He too perished, and all who followed him were scattered. So in the present case I tell you, keep away from these men and let them alone, for if this plan or this undertaking is of man, it will fail; but if it is of God, you will not be able to overthrow them. You might even be found opposing God!" So they took his advice, and when they had called in the apostles, they beat them and charged them not to speak in the name of Jesus, and let them go. Then they left the presence of the council, rejoicing that they were counted worthy to suffer dishonor for the name. And every day, in the temple and from house to house, they did not cease teaching and preaching that the Christ is Jesus. Acts 5:33-42 ESV
Thought:
Many Christians are worried about the potential persecution that may be coming to us in the perilous days in which we live. These early followers of Jesus were spreading the word after Jesus departed and enraging the religious leaders. Strange that it would be the "religious", those who claimed to serve God, would reject proclamations about Christ, who was God. These Influencers for Christ were persecuted by people that were supposed to be on the same team, in the same family. This teacher named Gamaliel showed great wisdom and God even used him to speak prophetically. He said if any plans are of man, they will fail. If they are of God, they cannot be stopped! These people he mentions, Theudas and Judas, apparently were charismatic figures who drew people to themselves. But there was something different about Peter and these men of Christ. Their aim was to make Jesus famous, not themselves. So God rescued the men from the council, although they were beaten before they were released. And it is quite amazing that they "rejoiced that they were counted worthy to suffer dishonor for the Name." Also, they did not stop teaching and preaching about Jesus!
Application:
If you are an Influencer, a disciple of Christ, and are abiding in Him, you need to know that God has raised us up for such a time as this. There are many who reject Christ, even though they may claim to know God. This culture seems to celebrate all kinds of freedom, except religious freedom. Many see followers of Christ as the enemy and they are enraged at us. We must remember that we serve Jesus. He is our leader. He is the One we want to make famous. We must keep abiding in Christ through His Word, in Prayer, by the power of the Spirit and in communion with our army of fellow believers. God cannot be stopped, and He is the One doing a mighty work. As a matter of fact, as times get tougher, the distinction between those who really follow Christ and those who have other religious motives, will be clear. Can we rejoice that we might be counted worthy to suffer dishonor for the name of Christ?
Response:
Jesus, we love You and we serve You. Thank you that You sent Your Spirit to be with us, to teach us all things, to give us supernatural power and insight to know how we should live. Lord, let us not be afraid of anything that might come to us. Let us keep close to you, and close to our family of believers and never cease to do good, to love everyone (even those who persecute us) and to proclaim your mighty Name! Lord, please use this ragtag group of humble believers, called Influencers, to do your work and reach all the people you want to reach. Guide us, Protect us, Join us. In Jesus' name. Amen.