Influencers Devotionals
Abiding Treasure- Your Will Be Done by Bryan Craig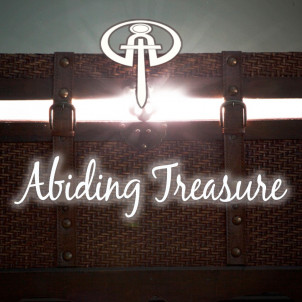 Scripture
"Your kingdom come, Your will be done, on earth as it is in heaven." Matthew 6:10 ESV
Thought
One of the biggest questions most Christians have is, "What is the will of God for my life?" I've asked it. You've asked it. I remember when I was called to join Influencers on full-time staff. I felt certain it was the will of God. One big piece that had to happen was the sale of our home in Tulsa. I asked God to sell our house quickly so my wife, Missy, would have assurance that this move to Arkansas was from God. Within a few days of this shallow, selfish prayer, God brought us a perfect young couple on Good Friday of all days, and we were signing a contract two days later on Easter Sunday. Sounds like a fairytale ending, doesn't it? Well, a few weeks later, due to a former termite issue and unfounded fear, the deal fell apart and it wasn't until 9 months later and a lot of stress and anguish that we finally sold our house.
Somewhere along this journey, I remember thinking, "Jesus must tell us to pray for God's Will to be done, because God's Will is not always done." Maybe that seems elementary or maybe not. I'm still convinced that young couple was supposed to buy our house. It would have been a perfect home for them and it would have benefitted us greatly at the time. But it wasn't to be.
This idea of God's Will needs further exploration. Other verses:
"I appeal to you therefore, brothers, by the mercies of God, to present your bodies as a living sacrifice, holy and acceptable to God, which is your spiritual worship. Do not be conformed to this world, but be transformed by the renewal of your mind, that by testing you may discern what is the will of God, what is good and acceptable and perfect. Romans 12:1-2 ESV
Hmmm. We need to offer our bodies, our minds in worship to the Lord BEFORE we will know the will of God.
"Rejoice always, pray without ceasing, give thanks in all circumstances; for this is the will of God in Christ Jesus for you. 1 Thessalonians 5:16-18 ESV
Paul spells out the will of God…to Rejoice, to Pray, to Give Thanks (in all circumstances)…interesting.
JESUS SPEAKING "If anyone's will is to do God's will, he will know whether the teaching is from God or whether I am speaking on my own authority. The one who speaks on his own authority seeks his own glory; but the one who seeks the glory of him who sent him is true, and in him there is no falsehood." John 7:17-18 ESV
If my will is to do God's Will, it brings Him glory and I will know the truth.
JESUS IN THE GARDEN OF GETHSEMANE "Father, if you are willing, remove this cup from me. Nevertheless, not my will, but yours, be done." Luke 22:42 ESV
Jesus, in his weakest moment as a man on earth, asks God to remove his cup of coming suffering, but he yields to the Father's will, no matter what. Thankfully, for us, He did.
Application
God wants me to pray for His Will to be done. As Paul said in Romans 12:2, God's Will is good, acceptable and perfect. He wants me to pray like this so that my will can align with His will. So, as far as I'm concerned, I will strive to be obedient and subservient to His Will. We all have free will, so even though I may be seeking the Lord's Will and offering Him my life as a living sacrifice, others who affect my life may not be doing the same. This could affect the Lord's Will being enacted in my life.
So, part of being surrendered to God's Will means He may allow some outcomes that are not pleasing to me. I accept whatever outcome, believing that even if the free will of another interfered with the Lord's Will in my life, God can even work that for good. When Joseph, who was sold into slavery by his own brothers, became the leader of Egypt and could have struck his brothers down, instead, he said to them…As for you, you meant evil against me, but God meant it for good, to bring it about that many people should be kept alive, as they are today. Genesis 50:20 God works all things for good for those who love Him and are called according to His purposes. (Romans 8:28)
So, back to my house story. God did answer my prayer. He sold our house quickly. We rejoiced and felt affirmed in our calling to move to Arkansas. Even though the deal fell through, the quick sale was a marker of God's Will for our life. It helped Missy and I learn to trust him even more. And we had more opportunities to learn to trust him in the coming months after that and even still today.
My prayers may still have a selfish tone to them at times, because I do believe we can ask God for anything…but I always try to end it with… "But not my will Lord, but Yours be done."
Response
Lord, I thank you that you are SO gracious and loving. You want to give me everything my heart desires, just like a loving Father would. But you love me too much to do that because You know many of my desires are not in line with Your will. You always see more to the story than I see. Your thoughts are higher than my thoughts. Your ways are higher than my ways. Lord I agree with Paul's assessment of our Your Will…that I would Rejoice, Pray and Give Thanks…ALWAYS. I want to trust you absolutely, no matter the outcomes in life. I know you are always working things out, even in the midst of sin, disobedience, evil…for Your good and the good of Your children. I'm SO thankful I'm one of Your sons. Lord, Your Will be done in my life today, and every day. May You be glorified in my life. I love you, Lord. In Jesus' name and according to Your will, Amen.