Blog
Be Strong and Courageous by Bryan Craig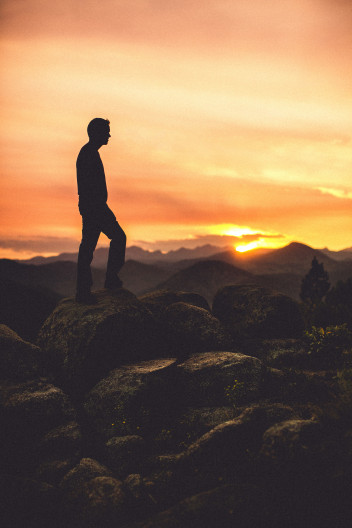 "Have I not commanded you? Be strong and courageous. Do not be frightened, and do not be dismayed, for the Lord your God is with you wherever you go." Joshua 1:9
I wrote a blog a few months back about my experience with F3. This is the nationwide men's network of bootcamp style workout groups that is sweeping across America. There are many parallels between F3 and Influencers in the fact that they are helping men find a new lease on life and are training them to be leaders in their communities. I was training for a crazy overnight "rucking" event where you carry a weighted backpack, work in platoons, and have missions to accomplish all night long. It was 5:00 in the morning and it was pouring rain, as I carried my backpack and walked several miles, by myself. At one point, I asked God why I was doing all of this. I mean, I'm not in the military, so why am I putting myself through all of this training. I heard the Lord's gentle whisper…
I'm making you strong and courageous.
This really struck my heart. A few weeks earlier, Rocky had suffered a heart attack that could have taken him out. And the words God was giving me were the words the Lord gave to Joshua after Moses had died and Joshua was appointed to take the people into the Promised Land. Yes, Rocky has been the Moses to Influencers and he has been a spiritual father to me. This caused me to study the passage in Joshua where God spoke these words.
If you read Joshua 1:1-9, the Lord tells Joshua:
Go into the land I promised to the people. Every place you step I have given to you, just as I promised Moses.

As I was with Moses, I will be with you.

I will not leave you or forsake you.

Be strong and courageous. (He tells him this 3 times.)

Be careful to do all the law that Moses commanded you. Do not turn from it right or left…so that you may have good success. (He says this twice.)

Do not be frightened or dismayed.

The Lord God is with you wherever you go.
I began to connect the dots. The physical training I was going through was symbolic of real-life challenges that are sure to come. A young guy in our F3 group said something very wise. He said, "When you do hard things, you find out what's really inside of you."
A disciple of Christ is in training. We faithfully abide in Christ, we study His Word and hide it in our hearts, and His Spirit strengthens us and guides us to the places where God needs us. I think Moses was one of the first great Disciple-makers. He invested in Joshua and got him ready for the day when he would not be there. Moses introduced Joshua to the Holy One, knowing God was the one who would be with Joshua to the end of the age.
There comes a time in every believer's life when it is time to grow up. It is time to trust in God and move boldly into the purpose He has for you. There are always key people God uses in our life, but if those people do their job, they help us learn to stand on our own faith and trust in God. And we should do the same with the people we will disciple and mentor.
Joshua demonstrated courage from the very beginning when he was appointed as one of the 12 spies who went into the Promised Land. Ten of the spies were trembling with fear, while Joshua and Caleb said, "We can take them." I think this was a raw, unbridled courage and cockiness that comes with youth. But now, all these years later, after getting to know the Lord, Joshua was humbled and unsure, and God was instilling a faith and confidence that was based on Himself.
I think a day is coming when strength and courage will be required of us all. We can be thankful for those in our lives who have believed in us and instilled confidence in us. But when the day comes, we will need a strength and courage that comes from the Lord, from His Word, from His Spirit, from Prayer, from Faith. The Lord is training us for such a day, and many more disciples are needed. This is why Influencers is needed.
Fellow Influencers, let's get ready to take the land the Lord is giving us. Let us look for more Joshuas who we can help train. Lord, give us eyes to see the harvest fields. And Lord, please MAKE US STRONG AND COURAGEOUS.