Influencers Devotionals
Unity Continued by Rocky Fleming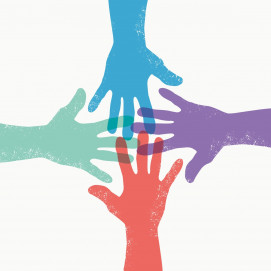 Beloved, do not believe every spirit, but test the spirits to see whether they are from God, for many false prophets have gone out into the world. 1 John 4:4 (ESV)
I've had several comments on my last blog entry about unity. I think this has happened for it doesn't take much looking around to see the disunity in the Body of Christ that exists in this country. People are seeing it and are concerned. Therefore, I personally feel a strong call to teach and preach unity in the Church, for Satan is a liar, and his mission is to create divisions in the Church, and diversion from the truth found in Holy Scripture. Christians are his target.
One of the biggest lies that he promotes is what I term, "Irrelevant distinctions in the Body of Christ." What do I mean by that? Well think about it. How do we describe someone? Is it by race or gender or denomination or nationality? Is it by a political party or a region of the country? Is it as a friend or an enemy, a Roll Tide or War Eagle? (You've got to know about SEC football to know what I'm saying here). These are distinctions that we make to put someone in a category, whether it is good, bad or indifferent. It is part of a society, and in fact all societies. But and this is a big BUT, … I do not believe these distinctions have a place in the Body of Christ. They are irrelevant.
So, you're asking, "Do we fail if we recognize a person's differences? Am I to be blind and deaf to those differences?" Well no. I'm not saying that at all. I think we need to see and recognize the beauty in every race and language and culture and a multitude of distinct qualities in people. After all we are all created by God and He doesn't make mistakes. I think we should even respect other ideas that might be opposed to our own perspective. Those differences are not irrelevant.
What is irrelevant is when we use those distinctions to separate us and divide us and to debilitate the Church in this country, and if you haven't noticed it you should. That is what is happening. We have been using irrelevant distinctions for years with regard to race, denominational differences, styles of worship, cultural differences and now political affiliation. It has created walls and great divides between us. God's family has been separated and anemic for many years because of this, and it is time for it to end. We've got to come together.
When I speak of coming together, I speak directly to fellow followers of Jesus Christ. I do not suggest joining together with those who are opposed to sound doctrine and teach a falsehood. In fact, I suggest that it is ever more important that we test the spirit in a person and make sure we are not embracing a false prophet and his or her teachings. That is why I included the scripture above. But there is another litmus test that can test a false teacher. They cause divisions. Look what scripture says:
"I appeal to you, brothers, to watch out for those who cause divisions and create obstacles contrary to the doctrine that you have been taught; avoid them. For such persons do not serve our Lord Christ, but their own appetites, and by smooth talk and flattery they deceive the hearts of the naive." Romans 16:17-18 (ESV)
What are we being instructed to do in this passage? We are told to avoid such people who cause divisions in the Body of Christ. Look at the evil man that is behind this person even though he or she may look so trustworthy. Look at the irrelevant distinctions they promote to pull you in and separate you from other believers who follow sound doctrine. Then you will see more and more how subtle these distinctions start to become walls of separation and areas of weakness. If we are going to be strong in this day and time, we must see the enemy's work behind the disunity we see in the Church in this country, and then overcome it by becoming a family who is unified under Jesus Christ.
We are facing a monumental task to oppose a stronger enemy. But we serve the One who conquered this enemy and gave us the power and authority to overcome his work. Let us do that. Let us start by seeing our common enemy and our shared hope in Jesus. We are never distinct from that need. In all denominations, culture and races we have this fact in common that Jesus is Lord. Let's make His love known to each other and to the world. That is how people will know us. They will know us by our fruit and they will get to know Him because of it..