Announcements
Influencers-Costa Rica Launching Soon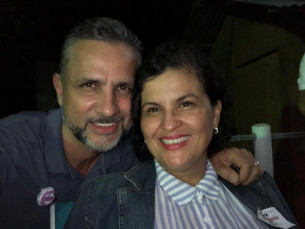 From the beginning of Influencers, Rocky felt that if this ministry was going to expand, it would have to be organically. The first Journey group 2000 years ago was the model, as Jesus formed a group of 12 men, out of whom a movement was birthed. We believe that if a person abides in Christ, they will begin to bear fruit and this fruit reaches others around them. It works its way into families, businesses, churches, communities, cities, states, Nations.
Costa Rica is an example of this dynamic. Ron Froehlich, an Influencer out of Bakersfield, had a vacation home in Coco Beach, Costa Rica. He and his wife, Mary Ann, began attending a bi-lingual church called Hope Fellowship, pastored by Henry Guiterres. They loved Henry's heart and passion and they felt God telling them to come alongside him. They became friends and one day, Ron gave Henry a box of books. Guess what it was?...The Journey curriculum! Henry smiled and received the box graciously, but as soon as Ron was gone, he promptly put the box under his desk.
Then, Ron invited Henry to come to the Influencers National Summit in Northwest Arkansas. Henry had little idea who Influencers was but he followed the lead of his new friend, Ron. Henry saw the Lord move mightily at this weekend conference, and he kept hearing man after man talking about The Journey and Abiding. The Holy Spirit was working on Henry's heart, and he sensed something in these men that was calling out to him. A few months later, at a Souly Business conference in California, Henry sat next to Rocky Fleming and realized he was the founder of Influencers. However, the timing was not right and Henry was not ready.
About two years after Ron first gave Henry that box of Journey books, Henry attended a Souly Business in Costa Rica, and he brought several of the men from his church. Afterwards, the men were so enthused and were asking Henry what the next steps would be for them. He had no idea what to tell them. He began to ask the Lord for the next step. He heard God say, "Look down." Henry did not understand. Again, "Look down." As he looked down, he saw the box Ron had given him. He opened the box and began to read The Journey to the Inner Chamber. Immediately, Henry knew that the next step was to take his men through The Journey.
He began to lead 24 men through The Journey, but only a few weeks in, the wives of these men told Henry they wanted what they saw in their husbands. So, 24 women began a Women's Journey Group. At the same time, Henry went through a Virtual Journey group as a participant, so he could fully understand the experience. That was 2019-20. Around 140 Costa Ricans have been through The Journey now.
The men and women of Costa Rica have discovered that Abiding in Christ is what they were missing. God continues to show us that The Journey and Influencers is not just an "American" process. Rocky's stories and the Journey process resonates with people in other cultures, mainly because it's all about Jesus.
We are providing Influencers Costa Rica with some resources needed to launch this new initiative. All of the Journey curriculum has been translated into Spanish and plans are being made to print the books in Latin America to save on the international shipping costs.
We are SO excited to see what God is doing. He is truly fulfilling His own Great Commission to make disciples of all nations, and we are so blessed that Influencers can be a part of it.
If you would like to help with this initiative, we have set up a special fund for Costa Rica. Any donations received will go directly to support the discipleship work in Costa Rica.