Announcements, Influencers Prayer
Please Pray for My Dad...and My Mom
For this reason I bow my knees before the Father,
from whom every family in heaven and on earth is named,
that according to the riches of his glory he may grant you to be strengthened with power through his Spirit in your inner being,
so that Christ may dwell in your hearts through faith—that you, being rooted and grounded in love,
may have strength to comprehend with all the saints what is the breadth and length and height and depth,
and to know the love of Christ that surpasses knowledge, that you may be filled with all the fullness of God.
Now to him who is able to do far more abundantly than all that we ask or think, according to the power at work within us,
to him be glory in the church and in Christ Jesus throughout all generations, forever and ever. Amen.
Ephesians 3:14-21
Influencers Family:
I believe in the power of Prayer and I believe God still does healing today. Sometimes he uses doctors and medicine, and I love it when He does things that doctors cannot explain.
I ask you to join me in praying for my Dad, Jim Craig, and also my Mom, Lisa Craig. They both have COVID-19, but my Dad is in the hospital and having difficulty breathing. He is on oxygen and antibiotics and steroids, and they are going to give him plasma with antibodies.
Please take a moment and join me in lifting my parents up before our gracious Father.
"Is anyone among you sick? Let him call for the elders of the church, and let them pray over him, anointing him with oil in the name of the Lord. And the prayer of faith will save the one who is sick, and the Lord will raise him up. And if he has committed sins, he will be forgiven." James 5:14-15
If you'd like to send an encouraging message or prayer for my parents, you can add a Comment below.
Thank you so much and God bless you!
Bryan Craig
Executive Director, Influencers Global Ministries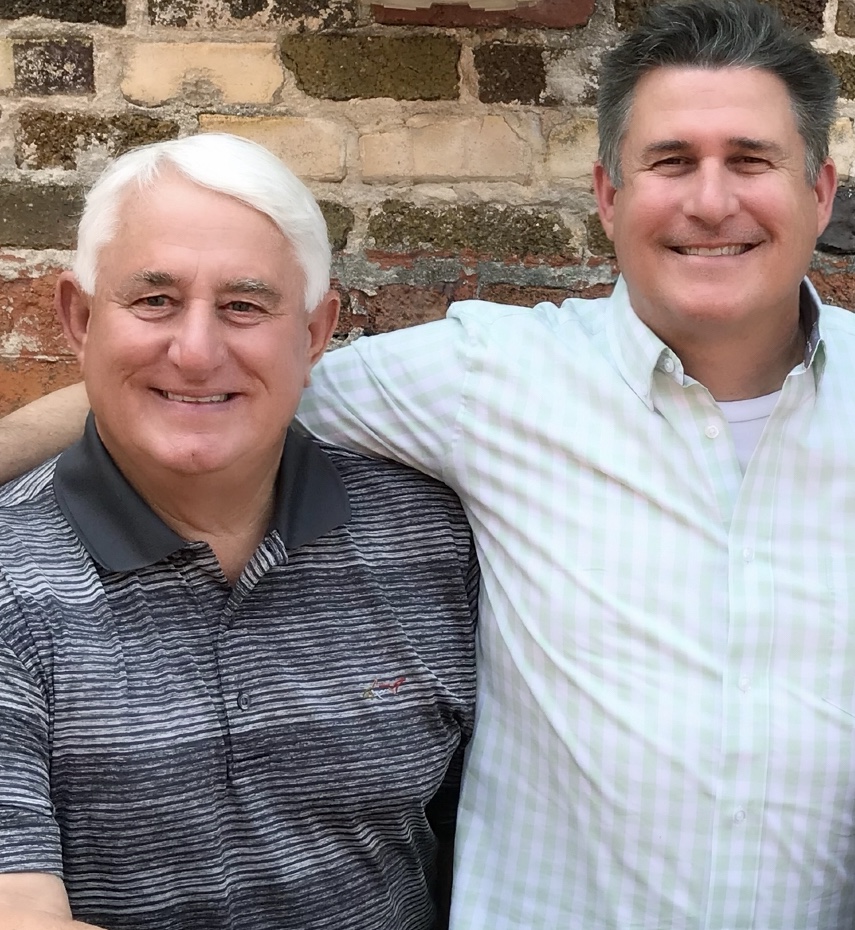 FINAL UPDATE
I'm sad to report that my Dad, Jim Craig, went to be with the Lord this morning. The ravages of COVID-19 on his body proved to be too much. I'm still comforted by Dad's last text he sent me, right before he went on the ventilator, "Love you guys. I know prayers are what I need the most because I am in His hands now." Well, I believe he is in Jesus' arms now. THANK YOU for all the prayers and concern and love you have shown our family. Please keep my Mom (Lisa), my brother (Steve) and my sister (Susan) and me and our families in your prayers. We love you all.
I have fought the good fight, I have finished the race, I have kept the faith. Now there is in store for me the crown of righteousness, which the Lord, the righteous Judge, will award to me on that day—and not only to me, but also to all who have longed for his appearing. 2 Timothy 4:7-8
UPDATE ON DAD 11/7/20 7:00 AM
He's been about the same the last few days, not really any better but not worse. They tested him for COVID yesterday and it was still positive. This disease latches on and won't let go. It's still causing problems in his lung gases and in turn, is affecting kidney function. They are now preparing us that he may need to leave ICU and go to a Long Term Acute Care facility. This would result in a tracheostomy which would hopefully be temporary. Then it would be a waiting game. None of this sounds good to us. We are praying for a miraculous turnaround right away so he could get off the ventilator before this goes long term. Trusting in the Lord's will in this, but He also says we can ask anything and that if we delight in Him, He will give us the desires of our heart and also, that prayers offered in Faith make sick people well. Join us in praying for a miracle healing. I went to a gathering of Influencers in Tulsa yesterday morning and we sang a worship song that I don't know that I've heard before called "Tremble"and these lyrics hit me: "Jesus, Jesus, You make the darkness tremble Jesus, Jesus, You silence fear Jesus, Jesus, You make the darkness tremble Jesus, Jesus Breathe, then call these bones to live Call these lungs to sing Once again, I will praise." Then one of the Tulsa Influencers gave a testimony about second chances. It felt providential.
UPDATE 11/5/2020 8:00 PM
Another fairly steady day. Everything is pretty much the same as yesterday. He's still on the ventilator, and his oxygen requirement is about 70%. The CO2 retention problem saw a minor improvement today. They will give him another round of Dialysis tomorrow. Even though he is sedated, the nurse did a FaceTime so we could talk to him and tell him we loved him and pray for him. We feel encouraged tonight, but we still know he's got a long way to go. Thanks for continuing to lift Dad up to our Healer.
UPDATE 11/4/2020 7:36 PM
Well, I don't have too much to report because he has stayed pretty steady today. In this critical stage, no news can be good news. They are doing the 2nd round of Dialysis tonight and they gave him another unit of Plasma with Antibodies. The Pneumonia caused by COVID needs to leave his body so his lungs can recover. He is still on the Ventilator and they have seen a little improvement in the CO2 problem by adjustments to the machine. Thanks again for all your concern and prayers. I can't wait to show Dad all the messages and love we received on his behalf when he recovers. It's a slow process. I don't know if you read my Blog the other day, but "Perseverance" is the word God gave me at this moment.
UPDATE 11/3/2020 8:42 PM
They did end up starting Dialysis today, and his body is handling it, which is good. This is to help his kidney function short-term to give the lungs a chance to heal. There is still the issue with his CO2 and acidity levels. The Ventilator helps with this, and they said the Dialysis indirectly could help with it. They said he is holding his own at this point. We praise God for the small progress and continue to ask for His healing, wisdom and peace.
UPDATE 11/2/2020 7:30 PM
More urgent prayer needed tonight. Dad's kidneys are not functioning properly, which is causing potential need for dialysis in the morning. His oxygenization is staying above 90 at 60% on the ventilator, which is good, but his body is also not getting rid of CO2 like it should. Lots of critical things going on right now. We need God to intervene if Dad is going to survive this. Trusting in Him.
UPDATE 11/1/2020 9:30 AM
Dad is on the ventilator and is still in critical condition, but stable right now. It is a waiting game, praying that his lungs are healing and getting stronger while the machine is giving them a break. The prayers are so valuable; the hospital doctor said "prayer is the best medicine we have." We love you all, and we are humbled by the outpouring of love, support and prayer.
UPDATE 10/31/2020 3:00 PM
Urgent need for prayer! Dad has continued to get weaker and they are intubating him shortly. The pulmonologist said he was very sick. Please pray for his heart and lungs to get the break they need and that healing would be taking place while he rests and is sedated. They let us FaceTime him so we could tell him we loved him and not to be afraid. And please pray for my Mom, Lisa, for comfort and peace in the midst of this storm. Thank you for your love and support.
UPDATE 10/30/2020 8:00 PM
Well, no major news to report tonight. He's been holding steady since yesterday, still needing the Bi-Pap high pressure oxygen most of the time and not able to do much. They can give him breaks from it and put him on the non-rebreather mask while he eats or drinks, but his oxygen saturation drops pretty rapidly. So, we obviously still need prayers that the COVID virus would be gone completely and his lungs will heal from the pneumonia. It's a day by day, slow process. We got to FaceTime with him the past few days which encouraged us as much as we hope it encouraged him. He's hanging strong, but very weary.
UPDATE 10/29/2020 9:00 AM
I didn't post an update yesterday because things were about the same. Holding steady. They were even talking about plans to move him to a Rehab Center to work on his recovery. This morning, there was a setback. They had to leave him on the Bi-Pap (the higher pressure oxygen) because his lungs seemed tired. They told us this would be a long process, and it has sure had lots of ups and downs. It is a battle. God keeps giving me the word "perseverance" and I shared that with Dad this morning. The nurse said he's a fighter. She's never had a patient more determined to get well. Please keep praying, as I know you will. God is in control. He is sovereign. Many of you have asked about Mom. She is feeling well physically and seems to be over COVID, which is good. She is obviously very concerned about Dad right now. Pray for strength, comfort, peace, hope for her.
UPDATE 10/27/2020 8:00 PM
We haven't heard from the Hospital doctor today because we have a new one, but we've talked to the nurses twice today. He is handling the Rebreather mask really well during the day, and he is moving around some on his own which is a big improvement. The nurse said all his organs are looking good and his blood pressure level. And he feels good! He's called my Mom and sister a few times today, in a really good mood. He's excited to watch the World Series tonight. He was telling the doctor he was ready to come home in a few days. We'll have to see what the doctor says about that. But he is still in ICU because he still requires quite a bit of oxygen. Also, he received a 3rd unit of Plasma, so we are anxious to talk to the doctor about that, as well, but we are assuming they must think it's helping fight off the COVID. So, we are feeling so good about what we are hearing. We just want his lungs to fully clear up and get back to normal oxygen production so he can get home. Thank you for your prayers! They are working!
UPDATE 10/26/2020 4:30 PM
Nothing really new to report today. He is about the same as yesterday, able to sit in a chair and use the Rebreather mask during the day, rather than the Bi-Pap. He's been texting with us, and his spirits aren't quite as high today as yesterday. He did receive his 2nd unit of Plasma with antibodies yesterday. Praying that the virus leaves his body and his immune system starts clearing his lungs. Thank you all for your concern and prayers.
UPDATE 10/25/2020 1:20 PM
Dad is still in ICU. He still requires quite a bit of oxygen but they have been able to switch him during the day off of the Bi-Pap high pressure oxygen to a Non-rebreather mask with about 15 L of Oxygen. He likes this much better! They got him into a chair for the first time and he handled it well. The doctor said he looks better and feels better today. They are also going to give him another unit of Plasma with Antibodies. Now they are just trying to wean him down off the Oxygen slowly as he receives benefit from the plasma, the Remdesivir and his own immune system, fighting off the virus. We are encouraged, but we know this is a slow process. Please keep praying. We know God is in the midst of this, probably more than we realize.
"And the prayer of faith will save the one who is sick, and the Lord will raise him up. And if he has committed sins, he will be forgiven." James 5:15
UPDATE 10/24/2020 10:00 AM
Just talked to the nurse. He's holding steady, which means he's not requiring any more oxygen than yesterday. They said sometimes staying the same is progress. This is Day 5 of the Remdesivir, the last day of this anti-viral drug, so we are not sure if this is working or not. It's been 48 hours since the Plasma unit with the antibodies, so we are wondering if they are working. They said there is a shortage of Plasma with antibodies nationwise, so if you have had COVID, go donate your blood if you are able! If anything changes I will post another update today. Keep praying. We really appreciate your prayers and feel their comfort.
UPDATE 10/23/2020 7:30 am
Dad was moved to ICU yesterday because he needed higher levels of oxygen. He is now on a Bi-Pap mask, which he likes much better. But the oxygen is doing most of the work for him right now- 70% versus 30% from his own lungs (if I'm understanding and explaining this correctly). When people get to 100% oxygen from the machine, that's when they need to intubate and use a ventilator to give their heart and lungs a rest. They have told Dad this is a possibility- he is fighting, and we are hoping his body is able to create enough oxygen AND fight the disease until he turns the corner so he won't need ventilation. But we realize the ventilator is not a BAD thing- in fact, it could really help. He is still in decent spirits and we feel he is getting good care. Please keep praying that the Antibodies in the plasma he received, as well as the Remdesivir, AND God's healing hands start turning this around.
UPDATE 10/21/2020 3:46 pm
My Mom just got off the phone with Dad and he said he is feeling much better, breathing better and getting rest. Praise God! The prayers and the medicine are both working.
UPDATE- 10/21/2020
They gave Dad a unit of Plasma with the antibodies last night and they started the Remdesivir and his body did not reject it, which is good. He is also on "High Flow Oxygen" which is the best they have to offer. They seem very attentive to his needs and on top of everything. Continued prayers!
UPDATE- 10/20/20 AT 5:50 PM CT
Still needing 10-15 L of Oxygen. On 2 Antibiotics, a Steroid, 2 Inhalers, Cough Medicine, Vitamins C, D and Zinc. They are going to give him Plasma tonight with Antibodies and starting a 5-day IV treatment of Remdesivir, which is one of the treatments Trump received. We really appreciate all the prayers and support.