Blog, Influencers Devotionals
Release to Gain by Rocky Fleming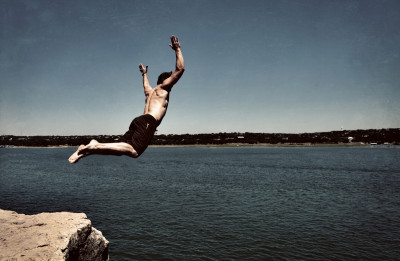 "Will you abandon that which you cannot control to receive that which you cannot achieve?"
The question above came to me from the Lord. However, it started with me asking myself the question first. When I spoke the question to myself, I could offer a multitude of excuses such as my responsibilities, the risks involved, and how other people would be affected. I could ask the question and avoid a truthful answer quite easily, for I was processing my answers through my logic grid, and logic is often the antithesis to following Jesus Christ. But the question wouldn't stop, and I knew it was no longer me doing the asking. It was God, for His Spirit kept the challenge before me until I would decide to stay on the path I was on, or to join the Lord on a new path. Have you been at this place before? Are you there now? Is that question being asked of you?
In 1994 I finally decided to go down the new path the Lord was directing me on. He made it clear that the personal abandonment of my rights to myself and my perceived control over my life must be delivered over to Him. But He also promised me that this new path would lead to being part of something that I could not inspire or control or achieve. I would be invited to join Him in a great work that He would be doing. He asked me to trust Him more deeply than ever before. In fact, a deeper trust would be required to overcome that "logic thing" that led me before. If I did not do both, to abandon myself and trust Him absolutely, I would never see what He could do through me. It was required. I answered yes. Later in 2001 I was then invited by God to share what He was showing me, and it is called, "The Journey." Influencers would be formed from that humble start as other men and women have answered the same question asked of me, and Influencers was formed. However, that would be seven years later. From that time to 2001 I would be given several trials that would test my resolve to live out my commitment to live with abandon and trust. The question continued to be asked while I was still in business. "Would I put Him and His kingdom before my kingdom?" I had to answer yes to move forward.
This brings me to another point. In case you would think that my decision to answer "yes" was a one and done thing, you would be wrong. In 1994 I would define my dedication to the Lord to walk a new path with Him to be best described as a "consecration" of my life. My beginning of a new walk with Him. It was a necessary decision to make to abandon myself to Him and trust Him absolutely. But the same question is asked of me today. It requires that I continue to respond to that question and to choose or choose not, to follow a course that often goes against my instincts and logic. Yes, I still hear the question, even this morning, for our walk with Him will always be full of challenges requiring our trust and courage to stay on the path with Him, and thereby play a noble part with Him.
I have just given you a little personal history for a reason. I believe the Lord wants me to share those things He is teaching me to others, for we all have similar challenges in life. It helps to know that other people know our pains and fears firsthand. Many times, I have had people tell me that I've been reading their mail, for a book or blog or podcast was so personal to them. I tell them it's not me. I tell them that the Lord is speaking to them and I'm only a messenger sharing the truths I've experienced with Him. I repeat. I just share my experiences with Him. It resonates in other Christians hearts, for deep down we are also hearing His voice asking us, "Will you abandon that which you cannot control to receive that which you cannot achieve?" That's His question. Not mine.
I've discovered that there is great spiritual treasure to be discovered in close proximity with Christ. It is there that He gives us a new set of eyes to see our world in a different way. We feel things we didn't before. Wisdom grows within us and is transferable. Our old flesh nature and all of its hurts and hang-ups are yoked to His nature and we are seen and heard in a different way, a better way. I've heard too many spouses tell me about the significant good changes they are seeing in their spouse to doubt that close proximity with Jesus changes relationships and brings great blessings to them. All of these good things and more are on the other side of a door of such, waiting for us to claim. We must open that door to enter the throne room of Christ where love and His goodness and treasures are showered on us. It is where we find the abiding relationship with Him that He invites His family to. But there is only one way for a Christian to take this deeper step with Jesus to that Inner Chamber to find this treasure. We must answer a question to unlock the door. Have you figured out the question yet?
"Will you abandon that which you cannot control to receive that which you cannot achieve?"
What is your answer?