Influencers Devotionals
Shadows by Rocky Fleming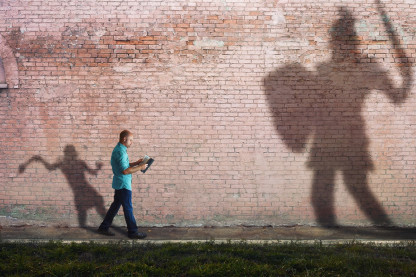 "Even though I walk through the valley of the shadow of death, I will fear no evil, for you are with me; your rod and your staff, they comfort me." Psalms 23:4 (ESV)
Wouldn't it be great to live in a world without threats? We might work thoroughly to eliminate threats so we can live a peaceful, separated life from the rest of the world, only to suddenly be surrounded by shadows and not know why. These shadowy threats lurk around us, looking for a place to land. When we fix our eyes on them and listen to their voices, we are frightened, and we invite them into our thinking. Once there they multiply as quickly as a Hollywood movie producer can create a scene with illusions that are so real, we join the panic. Why do we as intelligent humans not realize that most shadows are illusions? Why? Well, that is why we are called "sheep." That is why Psalms 23 was written from a shepherd's perspective saying that he is just one of the sheep and not the Shepherd.
What do sheep do when they are frightened? They run. They scatter. They panic … and they are picked off by the real threats that surround them. If they are smart and they trust their shepherd, if he is good, then they will run to him and he will protect them. David knew this firsthand when he wrote this psalm, for he was a good shepherd and saved his vulnerable sheep with his own rod and staff. Look what David said to Saul just before he was to face Goliath.
But David said to Saul, "Your servant has been keeping his father's sheep. When a lion or a bear came and carried off a sheep from the flock, I went after it, struck it and rescued the sheep from its mouth. When it turned on me, I seized it by its hair, struck it and killed it. Your servant has killed both the lion and the bear!" Samuel 17: 34-36
If you have any doubt that David had these experiences you might realize that if this was a man who had lied about such things, would he really volunteer to face a nine-foot giant who was thought to be invulnerable? Really? I believe David was telling the truth about his experiences.
I also believe that David had more real threats that would come at him throughout his life. He saw the shadow of death, many times, and with each threat he ran to dwell in the shadow of Almighty God, rather than run into the shadows that create fear and panic. It was from his own experience with his Good Shepherd using His rod and staff to protect him that he shares this allegory of truth. David was once a shepherd boy who protected his sheep. He understood the way shepherds protect their sheep. David was tapping into his own personal experiences to write this psalm.
Why did God inspire this beautiful psalm through David and his experiences with shadows? I believe it is so that you and I can find direction in this shadowy time we live in. We have so many threats coming at us. We could easily cut and run and say, "Every man for himself!!" If we do, we sound like sheep, don't we? It also sounds like the world's ways as well doesn't it, where everyone seems to be thinking only about themselves? No one else matters, only me? Panic will do that to a person. So, don't panic. Instead run to Papa. Slow down and consider that the threat may not be real, and if it is, go to where God's rod and staff can protect you.
You may have things that are threatening you right now. I will not get into the varieties of things that threaten us, from health to wealth, from loss to gain, from broken relationships to broken hearts, from birth to death, we will see shadows that are sometime real, and many times are not. My encouragement to you is to walk it out. Simply walk with Jesus through this valley of shadows that you find yourself in. David made it through his valley and when he did God had a feast for him that was waiting. It was a celebration for another safe passage through another valley. We will always have our valleys no matter how hard we try to avoid them. But we have the same God leading us that led David through his valleys.
David knew that his experience should not be limited only to himself. That is why he wrote Psalms 23. Like David we should use our experiences with God walking us through our valleys to help strengthen others. We should share our experiences with them so that others will rely on God in their time of shadows.
David shares another benefit of his travel through the Valley of Shadow of Death. It produces a legacy that will bless others. Look at these words:
"Surely goodness and mercy shall follow me all the days of my life, …" Psalms 23:6a (ESV)
David tells us that God's goodness and mercy follow us around, and I think it is this aspect of our life that people remember. It follows us. It is the fruit that Jesus speaks of in John 15:16 as being the kind that remains after we are dead. This kind of fruit is produced in trial and tests and perseverance. It is squeezed out of us as we face our shadows down by learning to rely on our Good Shepherd to lead and guide us.
So do not fear when the shadows come. Instead, be smart and run into God's shadow where He will both protect you and teach you to run less, and with Him gain greater courage so you can see the empty threats as they really are. Empty and impotent. God is with us and that is enough. He will walk us through our valleys. Therefore, since He is with us, let us walk it out.