Blog
Staff Retreat Report by Bryan Craig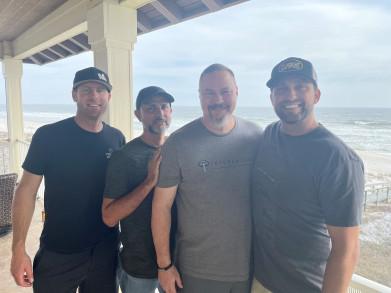 Last week we held our annual Staff Retreat in Gulf Shores, AL, as we called our regional leaders to a time of Retreat, Rest, Release, Receiving, Restoration and Re-Orientation. These are the points Rocky made on the first morning of the retreat, asking the men to give themselves permission for a Sabbath. We hosted Frank Khalil (Tulsa), Les Pearsey, Henry Schaeffer, Josh Sherley (Bakersfield), Kyle Neely, David Welton (NWA), Jim Pennington, Seth McMillan (Central Coast), Jay Thompson (Memphis), Glenn Gordon (Carolinas), Henry Gutierrez (Costa Rica), Michael Daoust (DFW), Scott Lawson (Virtual Groups) and Bryan and Rocky from the Global Office.
These men are on the front lines, in the trenches in our ministry, and this was an essential time for them to refresh their souls and to be encouraged and nurtured. When we say that we are all about Abiding in Christ so we can bear fruit and make an impact in this world and make disciples, we live it.
This is an excerpt from a Prayer from Rocky over these men:
"They come from East to West and places between those extremes. Though different souls with different lives and methods, they have a lifelong bond with each other that has been created by Christ, and in Christ. These men are champions of the Gospel, as they faithfully serve the King of Kings and His Commission to make disciples. They are battle weary warriors from the battlefield of spiritual warfare, which they engage in every day. Who are these men? They are Oaks of Righteousness, Peacemakers, Peace Givers, members of the Royal Priesthood … sons of Almighty God.
Papa, give them rest from their concerns for their family, and any other burdens that they bring to our gathering, by entrusting them to You, their Burden Bearer. Assure them that You are with them and for them, and that no power can come against them that can conquer Your presence and the power that dwells within them. Lift them high on the Holy Mountain that you wait for them so that You can lay Your hand on them and anoint them with Your love and assurance. May they find this peace that only You can give.
It is to Your glory and honor that these sons of Yours are dedicated and consecrated to the mission that You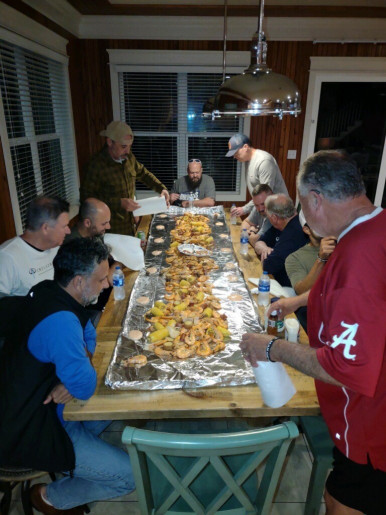 have called them to. They live for you and if necessary, they will die for You, for in living they die and in dying they live. You are life and You are their life. Live fresh within them dear Savior. It is in the powerful name of Jesus that this prayer is lifted up. Amen"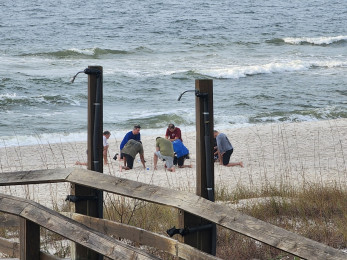 I can report to you that it was a wonderful week. The Holy Spirit answered Rocky's prayer as much was downloaded into our hearts and many burdens were lifted. Every morning we started with a devotional nugget and discussion and a testimony from one of the newer men. This was followed by an extended free time to be with the Lord, to rest and to connect with other brothers. Following dinner, each day, we gathered to download what the Lord was saying.
On Wednesday, night we had a special treat of all going to see the first showing of The Jesus Revolution movie together, which portrays the story of the Jesus Movement which occurred in California in the early 70's. Many tears were shed and hearts enlightened, as we dreamed together as a Staff for a "Discipleship Revolution" which might spread around the world through Influencers. It seemed so significant how the Revival at Asbury University seems to coincide with the release of this movie. During The Jesus Movement, it was the younger generations who were looking for answers they couldn't seem to find in the world. And it was beautiful to see an older pastor, Chuck Smith, breaking out of tradition and religion to accept these seekers. Our Staff has a true heart to be open to help ALL who want to find Christ in a deeper way.
We also had a powerful night as each man shared how the Lord had called them into full-time ministry with Influencers. God's fingerprints, His sifting, His preparation, His grace were unmistakable.
Though our Staff come from all different cultural regions and theological traditions and backgrounds, and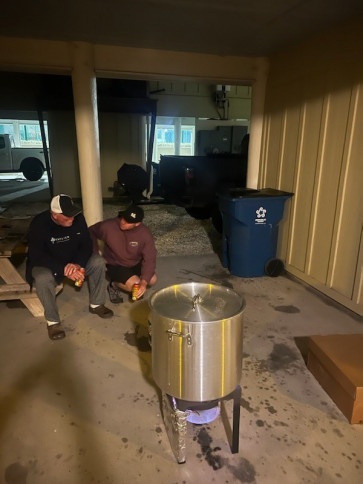 even though they may look different in the way they operate, we are all bonded together by Jesus for a common purpose of guiding people into an intimate, abiding relationship with Christ. And we all see that the harvest fields are ripe. We continue to pray for more Laborers to be raised up to help us live out God's mission.
We need men and women who have gone through The Journey to help others find what they found. There are likely to be millions of seekers in the next 10 years who need to go through The Journey to find what/who they need. Some of these Journey Guides will be called to join us on our Boards or on Staff. We pray and we watch God (the Gardener) as He works this big Vineyard we call Influencers and we join Him in His work. But make no mistake, we are ALL called to MAKE DISCIPLES.
If you live in one of our existing Regions, I ask you to love on your Regional Directors. Leadership is lonely, and the Enemy is constantly scheming against these men. They need your support, your encouragement, your prayers and your love.