Blog
Tearing Down the Walls by Rocky Fleming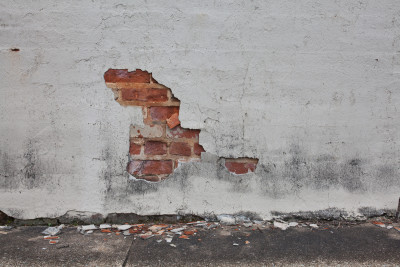 "Behold, how good and pleasant it is when brothers dwell in unity! It is like the precious oil on the head, running down on the beard, on the beard of Aaron, running down on the collar of his robes! It is like the dew of Hermon, which falls on the mountains of Zion! For there the LORD has commanded the blessing, life forevermore." (Psalms 133 ESV)
For years now I've seen wonderful reconciliations occur in marriages, in families, with friends and enemies, in churches, and between races. At the center of it all is what I've seen to be common ground that is found with abiding in Christ. As a ministry, that is our message and we've seen thousands of relationships healed because of abiding in Christ. I believe that one of the many fruits that Jesus included, as a result of abiding in Him, is reconciliation within our relationships. For that reason, my heart is broken by the animosity and separation I see in God's family due to race and culture differences. Actually, I believe I am feeling the Spirit's grief, for I know the feeling when He lets me know the grief that I've brought to Him before.
But the grief I feel now is less about my actions and more about the needs in God's family. I feel Him telling me that something needs to be done now, and I have enough supporting experience to know how we can end this grief we're giving Him. Let me share with you a personal experience that supports my belief that racial, cultural and denomination differences in God's family can be reconciled ... and it must be done now. The personal experience I speak of happened in a prison in Arkansas, as I saw, lived out before my own eyes, an example that has convinced me how this reconciliation can be done. I sure hope this experience is passed along to others, for they need to know there is a hope and a solution. We need to ask followers of Christ to help.
A few years ago, a member of our Global Board, Greg Huett, began leading the way for The Journey to be in prisons in Arkansas. Our discipleship process had already begun in prisons in California and is now also in Oklahoma and other places, but this was the first in Arkansas. Greg led the first Journey Group in Cummins Prison, and years later it continues with the inmates leading it. It has born tremendous fruit in the men's lives and has expanded to many men learning to abide in Jesus. The men in this prison are all there for a reason, and they know they messed up. But The Journey brings hope to them because it is about Jesus and not just another program or study. It is targeted specifically to get the men into an intimate abiding relationship with Christ. Yes, they are criminals, and some will be there for life. Some of them have multiple life sentences, and one in particular, who has been a tremendous Journey Group leader, will never get out. This black man was a young gang banger who killed several people when he was a teenager. He had been there almost thirty years when he went through Greg's first Journey Group.
His counterpart was another prisoner who was a tattooed-up former white supremacist. He too did terrible crimes and was sentenced to prison because of them. He, like the black man, found reconciliation with God through Jesus Christ, and through The Journey he learned to abide in Christ. What happened to their life from that point? Not only did they reconcile with God through Jesus Christ, by abiding in Christ, they reconciled with each other. A few years after the groups were going on, I went to Cummins with Greg to join a Journey Group commencement where multiple groups had assembled together in the prison chapel. It was there that I saw some things I'll never forget.
As with all our Journey Group commencements we celebrate together with food, fellowship, communion, and a special ceremony where our guides wash the feet of the participants. We do this because Jesus did it, and our commencement is patterned around the last supper Jesus had with His men in that upper room. In a prison our normal procedures have to be modified. Therefore, the food could not be done because of logistics. Even so, they could do communion and the foot washing ceremony. But it had to be modified as well. What I saw blessed my eyes more than any other time. Let me describe it and you'll understand.
The prison chapel has a large, metal baptistry with steps going down on one side and going up the other end. The men filled the baptistry with only about six inches of water. There were about fifty men that day who had completed our nine-month Journey process and they stood in a line to go down the stairs to have their feet washed. The black man, the former gang banger, was waiting for them in the baptistry to wash their feet. In the line were black men, white men, brown men, different cultures, different looks, and all there because of different crimes. Many, no doubt at one time, had been sworn racial enemies against one another. But not now. Those issues had been reconciled at the foot of the cross and through a mutual intimacy with Christ they had found going through The Journey. I was now seeing brothers in Christ who had the greatest thing in common, which was Jesus. The old differences were no longer there, and it was apparent.
Then each man descended the stairs, and the black man washed their feet while men standing over the side of the baptistry were laying hands on each man to pray for him. When a man walked up the steps existing the baptistry, the former white supremacist was there to dry their feet with a towel. He too was changed and was humbly blessing men of all races with his newfound freedom. I saw inexpressible joy on those men's faces who were humbly serving, and those who were being served by Christ's love that was being poured out on them. It was something that rocked me and will always remind me that reconciliation can occur if we will allow Christ to pull us together. I hope you are seeing this in your mind's eye as I try to describe it. If so, then you will understand what I am about to declare is true. Here it is. I feel the Lord is saying this to me and to you.
The racial differences in this country can be resolved by Christians, both black, white and brown, if we will abide in Christ. Jesus can bring His family together if we will listen to Him and follow Him, and once we are reconciled together, then we can take our love to the people of our world and demonstrate Christ's love to them. They've got to see it in us for each other, before they can ever understand the anger and divisions that are driving them comes from the evil man and not from other people. I know you hear this kind of thing a lot from me. But you have to understand this. I cannot see God's family remaining divided and being able to represent Him in a right way. He deserves that we come together and reconcile together with Him by abiding in His love and His love through us. It can be done. If it can happen in a prison of notorious inmates, it can happen anywhere. I've seen it. It must happen now.