Blog
The Lure - The Hook - The Hurt by Rocky Fleming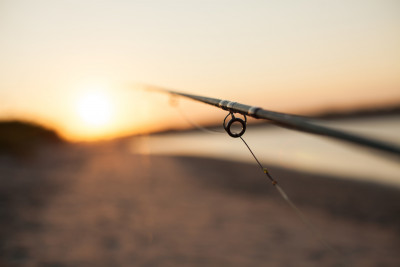 " … let us also lay aside every weight, and sin which clings so closely, … " Hebrews 12:1
I'm a fisherman. There are many forms of fishing crafts that I've owned, and as well several different fishing methods I've used. I've settled into using a kayak to do my fishing now, for it is simple and cheap. But there is one thing that has been consistent in all my years of fishing. I need some form of bait or lure attached to a hook and line to land a fish. Once the bait is taken, I hook the fish and reel it in. I know there is gigging and netting and bowhunting for fish that is done. So, endure with me while I use my fishing methods on a creek bank, a boat, in the surf, or in my kayak as an illustration, instead of those other methods.
Fish are attracted by bait they like the most, even if it is artificial and only looks like their favorite food. They see it and want it. In fact, they will abandon all reason as they attack the bait … on a hook … attached to a line … and to a reel in my hands. I have a purpose for "luring" them to my hook, and they will not like it.
Why do I give you these fishing dynamics in my blog? It is to make a point about the lure of Satan that he wiggles before us. That particular lure, the one that we are most attracted to and which clings very close to us as the scripture above indicates, is how he hooks us. Therefore, we had better know the intentions of the evil man who fishes for us, before we take his lure that sin is attached to. His intention is to hook us and destroy our lives and all that we hold dear.
Let's make it personal. I want you to think about this question. If Satan wanted to put a lure before you of your favorite bait, which is the sin which clings so closely to you, what would it be? This is a very important question to consider, for all that you hold dear is likely at stake. Do you know what it is? Can you identify it when the lure comes, or do you play around with the thought of it and consider taking it? Considering taking it is called "temptation" and temptation is not yet a sin, but it comes right before taking the bait. It is the allure of a lure that Satan puts before us, and it is part of his game. Playing around with temptation is very dangerous, for he is very skilled at what he does. There is always a tipping point when we tempt temptation, and it is only one small step to find it. But then it is too late. We've been hooked and are being reeled into the dark depths of Satan's kingdom. What makes us do this? Consider the passage:
Let no one say when he is tempted, "I am being tempted by God," for God cannot be tempted with evil, and he himself tempts no one. But each person is tempted when he is lured and enticed by his own desire. Then desire when it has conceived gives birth to sin, and sin when it is fully grown brings forth death. James 1:13-15 (ESV)
Do you connect my illustration to this passage? Do you see how we are lured and enticed by (our) own desire? It is the sin which clings so closely to us. We all have a sinful desire that must be yoked to Christ so that we will not be lured to Satan's hook, and we need to be alert to it.
People ask me how to isolate from the sin that clings close to them. I tell them that they cannot isolate from it, for its part of their development. I can tell you that my nemesis was introduced early in my life, and I can't remember a time that it has not followed me around. But I do tell people, and myself that we can insulate ourselves from it. While I'd like to say that I can use personal discipline and accountability to certain people to insulate myself from my special temptation, I know from experience that none of those things work for me. However, I can tell you what works best for me, and it is found in the unhindered, healthy soul that is produced when I abide with Christ. I have found that when He is Lord of my life, including that temptation, and my eyes are turned toward Him instead of the "lure of Satan," I'm not tempted to take it. I'm able to see it as it is, which is a life destroyer. I've discovered how to "lay it aside" as the passage above encourages us to do. It happens when I abide with Jesus.
Catch and Release.
Though I want to issue a dire warning about Satan's lure and intentions, and the consequences we will face from sin, I want to also remind you that the authority that Jesus has over our sins trumps Satan's plans to keep us in his grasp. If we will repent and turn our lives back to Jesus, Satan must release us. He must release God's child. We cannot be taken from our relationship with Jesus, even though we will have to deal the hurts we've brought into our life because we took the lure. I'll close with Jesus' words being the last words in this blog, for they are a good reminder for us when we have taken Satan's bait. Jesus tells us we still have hope for forgiveness and a restoration to our relationship with Him.
"And I give them eternal life, and they will never, ever [by any means] perish; and no one will ever snatch them out of My hand. My Father, who has given them to Me, is greater and mightier than all; and no one is able to snatch them out of the Father's hand."
- Jesus Christ -