Blog
The Rescue by Rocky Fleming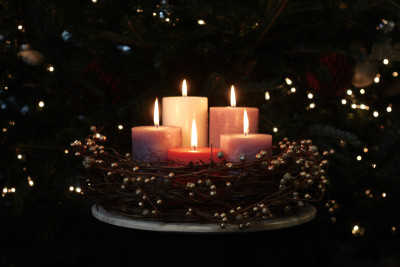 Advent, (from Latin adventus, "coming")
A man I know was going through a particular difficult time in his life with his career and financial challenges. It was the Christmas season for his young children and because of his stress with minimal income that he had at the time, he had to reject every Christmas present idea his wife brought to him as too expensive. He felt like George Bailey in the great movie, "It's a Wonderful Life." In fact, he had a meltdown much like George when he too told all his children to go to their rooms, for they were making too much noise. He told his wife that they were driving him crazy with their Christmas joy, for he had no joy, only fear. He was in a bad place, and the worst of it he had forgotten why, as a Christian, he celebrated Christmas.
His oldest son, which was eight years old at the time asked his mother if he could write a Christmas story to encourage his dad. Granted permission the boy sat with pencil and paper and wrote his version of the Christmas story. After he wrote it, he took his story to his dad and left it with him to read. The man read the first few words and broke down into tears, for it reminded him what he had forgotten. The simple introduction in his son's story about Christmas began …
"This is the story of the greatest rescue effort that has ever been done."
I wonder how many of us forget the simple truth of why Jesus was born in that manger outside of Bethlehem. We get caught up in the commercialism of Christmas. We join in the festive parts of Christmas. We buy and give presents. We decorate our trees and sing Christmas carols. We attend church. Some people do this for the first time, or at best infrequently. Some of us get a little more generous, and we help people out. We give to people in need. We gather as families and laugh a lot, if we are blessed to gather with our families. We watch a lot of sports and eat way too much. We celebrate Christmas and are thinking of new ways to do it differently. But, if you are a traditionalist like me, you fight to keep your old traditions alive. We are real busy doing Christmas, aren't we? But do we forget why we have it? Do we forget that it was the beginning of the greatest rescue effort that has ever been done?
One of the greatest mini-series about Jesus Christ in my opinion was produced for public TV in 1977. It is called, Jesus of Nazareth. Yes, believe it or not, it was produced as a mini-series and shown on NBC. That in itself would be seen as a miracle now days. It was a wonderful, dramatic movie that had a lot of correct theology in it. But some of the theology was obscure, and you needed to know what was being said by various symbolisms. For instance:
When the Baby Jesus was born and the shepherds came to look into the manger to see the Child the angels had announced to them, a dim light from a lantern spotlighted Him. A strange sight caused the onlookers to gasp, for a sign of a cross shadowed over the child. They looked again and saw that a large fly with its wings outstretched gave the image of a cross. Some people might see this symbolism as insignificant. But to me it announced the purpose of the birth of Jesus the Christ that night. He was born to be crucified. His destiny had already been established. He had been dispatched from heaven to begin the greatest rescue effort that has ever been done, and His life and then His death and resurrection was required.
There is another Christmas tradition that churches and ministries like ours provide at Christmas time. It starts four Sundays before Christmas and ends on Christmas Day. It is called Advent. Advent is about recognizing and celebrating the birth of Jesus, the Christ. Advent is derived from Latin word, "adventus," which means coming. I sometime wonder if we do not engage with advent as we should by limiting our perspective only to the birth and forgetting the purpose of the birth. We often say that Jesus is the reason for the season. But the cross is also the reason for the season. For those of you who do not know about the advent celebration I'll share a couple of thoughts. There are different candles that are lit of each of the four Sundays before Christmas. They are:
The Candle of Hope.
The Candle of Peace.
The Candle of Love.
The Candle of Joy.
These candles represent a connection with the birth, and its purpose, for these are indeed the things that Jesus brought to us. I think it is a wonderful tradition and I suggest that you might adopt it into your own home. In fact, you may even do all the candle lightings on Christmas Day, if you haven't already started it this season. But allow me a little change to the tradition. Why not put a cross with the candles and explain that what God did that day with the gift of His Son, was to begin the greatest rescue effort that has ever been done. Try to connect the birth with the purpose for He rescued you and me, and that is the greatest reason to celebrate.
Merry Christmas,