Blog
The Walk, a Sacred Cadence by Rocky Fleming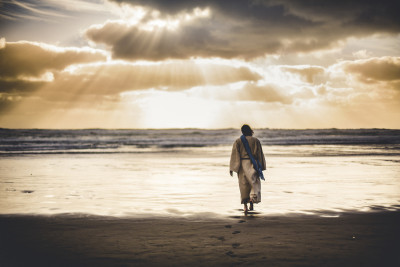 "He has told you, O man, what is good; and what does the LORD require of you but to do justice, and to love kindness, and to walk humbly with your God?" Micah 6:9 (ESV)
I talk a lot about a Christian's walk with Christ. However, I've found that most believers do not know what it means or how to walk with Him. They understand worship, to a degree. They understand prayer, or aspects of it. They typically follow traditional Christian patterns passed down before them through religious traditions and religious people and this is what they feel is needed to worship and pray to Him. But they do not understand how the walk with Jesus is where the deepest level of worship and prayer occurs. Let's try to understand this "walk" that I speak of.
Have you ever gone on a walk with a loved one, such as your spouse or dearest friend, and there are periods of respectful silence where nothing needs to be said to enjoy the moment together? You may be on a beach, or scenic walk, or even viewing a tragedy, and it grabs both of your attentions. Though nothing is said, the experience is shared, and though there may be silence there is a heart connection with each other and what you both are seeing. Often there is unspoken action that is needed and you two just know what to do, because you've spent time together and have gotten to know each other. Your walk together becomes instinctive and this creates an even deeper friendship, because you have a mutually cherished relationship that responds to things together. Without this kind of relationship, the benefits of your walk together would not happen, for no relational bridge would have been formed. The walk with Jesus requires that an intimate relationship bridge be formed as well, to walk with Him.
Why do most believers fail to know this or find it? I feel it has a lot to do with the way Christianity is miscast and mis-identified as being one of many religions around the world. It is seen as a faith or creed as all the other religions are identified by, but not a relationship. Until that changes in our perception, the walk with Him will not be found for we keep our relationship with Him at arms-length. Therein is how we can identify why the Christian walk is so hard to understand or relate to. It needs to be understood through an intimate, welcoming relationship with God, through His grace by way of Jesus Christ, and not through any rules and regulations and religious behavior that the religions of the world require. That is the difference with Christianity from them all.
I do not believe that a follower of Christ can get in sync with the Spirit of God and create this relationship bridge unless we do so through the grace/love relationship with Him that he has provided for His children. We cannot do it with religious or pious behavior, which was proven by the Pharisees in Christ day. We cannot do it by any legalistic or performance-driven means to get God's attention or to make Him love us more. Those things are driven by a wrong perception of God and His grace and keep us from entering into our walk with Him. There is only one way to discover how to walk with Jesus. We are invited and we respond through an abandon of our need to lead, and we join Him by trusting Him at the deepest level. Then our walk with Him begins.
I mentioned the interaction of loved ones when we walk together while sharing what we see or feel, and often doing so silently. There is some time of talking and listening and absorbing silently, and yet we are still together and experiencing different forms of communication but communicating none the less. I've found a similar rhythm or cadence in my walk with Jesus. Sometimes I feel His voice within me that tells me that He is there and wants to be heard. He has something to say about what is going on in our walk together. Sometimes He invites me to speak clearly and honestly with Him about what I'm seeing and ask Him where He can help me. Sometimes He's silent. At one time I feared His silence and sought to restore my personal perception of security by asking Him to speak again. But I've learned that silence is just another form of communication with Him to me, and a period when healthy introspection is provided; it is a time to listen to my own inner being. Those have been great teaching moments and are essential to maintain respect and experience with His faithfulness. He has always restored His voice to me, even though I've wanted to hear it sooner. He has proven Himself to be faithful, for He loves to be heard.
Jesus said that the road (path) that He invites us to join Him on is a less-traveled road. It has tremendous challenges to be a true disciple of Christ and to stay on the path with Him. That is why we must learn to walk this path one step at a time, with Him. We don't walk ahead of Him. We do not lag behind, and we surely do not attempt to walk it without Him. This spells failure every time, even though we have good intentions. Our walk must be with Him, and if we do walk with Him, He will use us, bless us, and eventually walk us into His heaven that awaits us. A walk with Jesus is a privilege granted to His family. But it starts on our end. He's waiting for us to come and join Him. Are you going?